N2 Racing Scores Multiple Top Five Finishes at Road Atlanta!
Media, PA – April 2022 – N2 Racing's Blake Davis and Kevin Olmedo each scored top-five finishes this weekend at Road Atlanta. Kevin Olmedo was able to score a sixth-place finish in Supersport Race One and a fourth-place finish in Supersport Race Two on his BobbleHeadMoto-prepared Yamaha YZF-R6. Blake Davis finished in fifth place in Twins Cup on his Westby Racing-built Yamaha YZF-R7.
Kevin Olmedo has worked with the N2 Racing team in the past at the Daytona 200, but this was the first weekend on the official N2 MotoAmerica team and the results were excellent considering the challenges. Olmedo suffered a broken toe in a SuperMoto training accident the week before the event was in considerable amount of pain throughout the weekend. Despite the pain, Kevin pushed hard in every session, developed a setup with the team to make him more comfortable and pulled off two great finishes. Kevin is currently fourth in the Championship standings.
Blake Davis arrived at Road Atlanta fresh off his Daytona Twins Cup win full of confidence. The team struggled a bit with setup in the first part of the weekend which resulted in a 10th-place qualifying position. The team worked hard and came up with a fantastic race setup. Starting from the fourth row is always difficult, but Blake methodically worked his way forward to finish fifth. Blake is third in the Twins Cup Championship.
Blake Davis – We struggled with getting the bike setup the way I wanted on Friday and Saturday, but the team worked together and got the bike feeling good for Sunday warm-up and the Race.  I started P10 due to struggling in both qualifying sessions.  I do wish that we had those few extra laps and that the race was not shortened due to the red flag as I was gaining on third and fourth position every lap but unfortunately didn't have enough time and finished P5.  I am looking forward to moving on to VIR.
Kevin Olmedo – I am happy with the start of the season with this new bike and a new team.  They worked hard to have the bike setup and ready to go for this round but unfortunately, I injured my right foot in a crash while training in El Salvador and had a lot of pain while riding.  We continued to just work on making me and the bike comfortable so that we could get some championship points even though I was injured.  I am looking forward to VIR and being healthy to ride at 100 percent.  I want to thank all the team because they did an amazing job this weekend.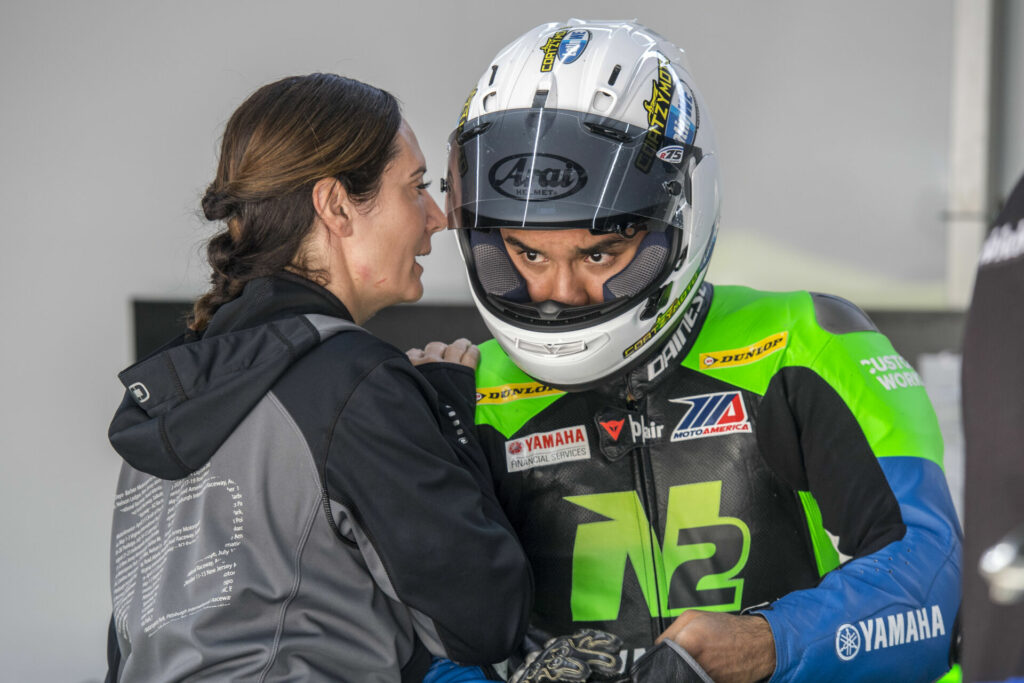 Shiloh Salopek (Crew Chief) – This weekend had its ups and downs, but we all learned a lot and were able to still secure some solid results for both Blake and Kevin.  We are all still learning a lot every time we go out about the R7, but I am happy with our progress and know we will be ready for VIR.  With Kevin being injured we knew that we couldn't push too hard this weekend and that the most important thing was to get as many championship points as possible and to be ready and healthy for the next round at VIR.  I think the team worked great together and overcame any obstacles that were thrown our way professionally.
About N2:
N2 – Ride, Race, Learn.
Founded in 2014, N2's mission is to build a sustainable motorcycle community through safe, structured motorcycle track days, advanced rider training programs based on Yamaha Champions Riding School teaching methods, with a strong affinity for motorcycle road racing. N2 successfully resurrected Motorcycle Endurance Racing in America partnering with WERA Roadracing and creating the N2/WERA National Endurance Series by Dunlop. N2 is a premier participant in the MotoAmerica Pro Racing Series with a multi-rider team competing in several classes. N2 is also a major contributor to the Roadracing World Action Fund through fundraising efforts and support from its large member base.
N2 Racing is proudly sponsored by: Dunlop Motorcycle Tire, Yamaha Motor Corporation USA, Dainese, BobbleHeadMoto, Karnes Performance, Trading Paint, GB Racing, Westby Racing, Attack Performance, Robem Engineering, Puig, Eazi Grip, ProBolt, and Yamaha Champions Riding School.
More, from a press release issued by 3D Motorsports:
3D Motorsports riders Power, Mariniello score top-10 finishes in MotoAmerica Supersport, Junior Cup races
Shakespeare, Boyce endure challenging weekend at Road Atlanta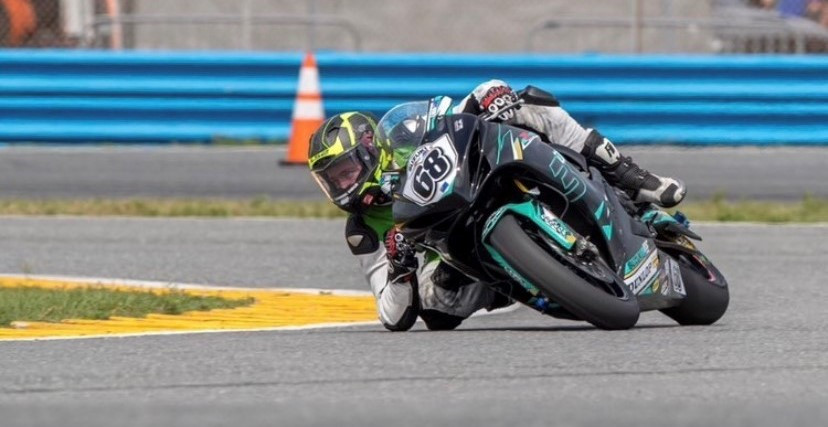 BRASELTON, Ga. — For 3D Motorsports LLC riders Luke Power and Joe Mariniello, racing at Road Atlanta was an all-new experience. The Australian duo are new to the MotoAmerica paddock, yet both riders scored one or more top-10 finishes at the April 22-24 MotoAmerica Superbikes at Atlanta round.
The event marked Mariniello's first time competing in a MotoAmerica race, while Power made his MotoAmerica debut in March at the 2022 Daytona 200. Both riders have experience racing in the support classes of the Australian Superbike Championship. 3D Motorsports LLC's other two riders – Steven Shakespeare and Mike Boyce – endured setbacks that kept them from taking part in racing action on Road Atlanta's 2.55-mile road course.
Power had a good showing on Friday in his first time competing at Road Atlanta. He finished Supersport Friday practice in 12th place and Qualifying 1 in 15th aboard his Suzuki GSX-R600 despite having his day cut short by an oil leak. When qualifying wrapped up on Saturday, Power had secured 11th place on the grid for the weekend's two Supersport races. Mariniello struggled a little at the start of his MotoAmerica debut weekend. He placed 15th in Friday practice and 16th in Junior Cup Qualifying 1 on a Kawasaki Ninja 400 but improved his best lap time by more than three seconds during qualifying. Mariniello was the 12th fastest rider in Saturday's Qualifying 2, which earned him the 13th spot on the starting grid.
Boyce struggled to find pace at the start of the weekend in Twins Cup, finishing Friday practice in 39th place. He improved his pace during Qualifying 1 but finished that session in 39th, and, on Saturday, was 40th in Qualifying 2. Boyce also took part in Stock 1000 practice and qualifying. He wrapped up Friday Stock 1000 practice 35th-fastest, Qualifying 1 in 30th and Qualifying 2 in 35th. Shakespeare unfortunately did not set a time in Friday Stock 1000 practice due to a transponder issue and engine woes. Later Friday, Shakepeare was unable to participate in Qualifying 1 due to a major mechanical issue with his Yamaha YZF-R1's engine. He did participate in Saturday's Qualifying 2 and finished that session in 28th place. Unfortunately, Boyce and Shakespeare were unable to participate in the weekend's racing action.
Power made the most of a restart in Saturday's Supersport race. He was running in 11th place when the race was stopped on Lap 2 and got a great start when racing resumed. He finished the first lap in eighth place and was able to maintain that position to the end of the race. Mariniello's MotoAmerica debut didn't go to plan, but he came out on top in a race-long battle with another rider to finish in 11th place.
With the experience they gained racing on Saturday, Power and Mariniello both posted even better results in Sunday's contests. Power got another excellent start in Race 2 and was running in eighth place at the end of Lap 1. Power battled with several riders during the 18-lap race and ran as high as sixth in the running order. He finished the race in seventh place. Mariniello was running in 11th place for most of the 11-lap Sunday Junior Cup race before attrition farther up the running order allowed him to finish eighth.
3D Motorsports LLC will be back in action in three weeks time at the next round of the MotoAmerica season, which is slated for May 20-22 at VIRginia International Raceway in Alton, Va.
Luke Power / No. 68 
"It was a very different weekend. The tracks here in America are very different from the ones I've been racing on in Australia. We were working hard to find a good setup for this track, and I was adjusting my riding style throughout the weekend. I'm not going to lie, I wasn't feeling well this weekend and struggled a bit physically. The 3D Motorsports team worked overtime this weekend. My bike had an oil leak that caused us to lose some time during qualifying, but I had a great bike this weekend – especially for Race 2. My results exceeded my expectations for this round, and I'm looking forward to the next round."
Joe Mariniello / No. 88 
"To be honest, we struggled a lot Friday. It took me some time to wrap my head around this track – it's very different from what I'm used to. The 3D Motorsports team worked super hard to give me a really competitive bike for Sunday, and we got some valuable championship points from this round. It's a long season, and I think we'll continue improving at VIR."
Steven Shakespeare / No. 72
"We were still putting the finishing touches on my R1 when we had to start packing up for this round, and our primary engine started having issues early in the weekend. We were able to buy another engine here at the track, and the team worked quickly to get the engine swap done. We were able to get out for Qualifying 2 on Saturday, but the new engine began leaking oil and we couldn't continue with qualifying. I think we just ran out of time to get me up to speed here at Road Atlanta. Hats off to the 3D Motorsports crew for doing the best they could with what we had to work with this weekend. "
3D Motorsports' sponsors for the 2022 MotoAmerica season include Orient Express, K-Tech, BTEC Turbines, 4SR USA, Blud Lubricants, CG Law, Evol Technologies, AF1 Racing, Southern Adrenaline, M4 Exhaust, Valor Farms, Second Hand Motorsports, LS2, Motorcycle Dealer Services, CG Law, RaceWorx and DrippinWet.
OTHER USERS BOUGHT THIS!!!