Editorial Note: The all-time lap record at Sepang International Circuit is 1:58.303 set by Fabio Quartararo in 2019, the last time MotoGP raced at Sepang.
FIM MotoGP World Championship Test
Sepang International Circuit, Malaysia
February 5, 2022
Day One Lap Times (all on Michelin tires):
Aleix Espargaro, Spain (Aprilia), 1:58.371
Maverick Vinales, Spain (Aprilia), 1:58.384
Alex Rins, Spain (Suzuki), 1:58.471
Enea Bastianini, Italy (Ducati), 1:58.638
Johann Zarco, France (Ducati), 1:58.946
Fabio Quartararo, France (Yamaha), 1:59.002
Joan Mir, Spain (Suzuki), 1:59.067
Marc Marquez, Spain (Honda), 1:59.287
Pol Espargaro, Spain (Honda), 1:59.353
Marco Bezzecchi, Italy (Ducati), 1:59.468
Cal Crutchlow, UK (Yamaha), 1:59.558*
Takaaki Nakagami, Japan (Honda), 1:59.634
Raul Fernandez, Spain (KTM), 1:59.682
Brad Binder, South Africa (KTM), 1:59.784
Alex Marquez, Spain (Honda), 1:59.913
Miguel Oliveira, Portugal (KTM), 1:59.945
Jorge Martin, Spain (Ducati), 1:59.949
Luca Marini, Italy (Ducati), 1:59.966
Francesco Bagnaia, Italy (Ducati), 2:00.027
Fabio Di Giannantonio, Italy (Ducati), 2:00.047
Franco Morbidelli, Italy (Yamaha), 2:00.107
Jack Miller, Australia (Ducati), 2:00.177
Andrea Dovizioso, Italy (Yamaha), 2:00.342
Remy Gardner, Australia (KTM), 2:00.470
Darryn Binder, South Africa (Yamaha), 2:00.818
Sylvain Guintoli, France (Suzuki), 2:01.390*
Lorenzo Savadori, Italy (Aprilia), 2:04.385*
*=test rider
More, from a press release issued by Dorna:
#SepangTest: Aprilia steal the headlines with a 1-2 on Day 1
The Noale factory blast out the blocks to the top, with Suzuki on the chase
Saturday, 05 February 2022
2022 pre-season testing couldn't have started any better for Aprilia Racing. Aleix Espargaro put in a 1:58.371 to take the honours on Day 1 at the Sepang Test, and then teammate Maverick Viñales shot up into second, just 0.013s off his compatriot. Alex Rins (Team Suzuki Ecstar) was third quickest on a busy opening day in Malaysia, with plenty of updated parts making an appearance.
APRILIA
During the Shakedown Test, Aprilia Racing Technical Director Romano Albesiano explained how the 2022 RS-GP is like "moving a building two metres away. It's not a big change, but you have to move everything." Basically, the bike is a completely new machine, albeit similar to the one we saw return to fighting at the front in 2021. And early indications suggest that both Aleix Espargaro and Viñales are enjoying themselves, with Viñales especially enjoying that the new RS-GP is narrower.
On the ninth lap of the day, Aleix Espargaro slammed in his 1:58.371, one of the fastest-ever laps of Sepang International Circuit on two wheels, with Viñales' best lap just 0.013 in arrears coming at the end of the day as the Noale factory bookended the action with a show of force each. 98 laps were completed between the pair.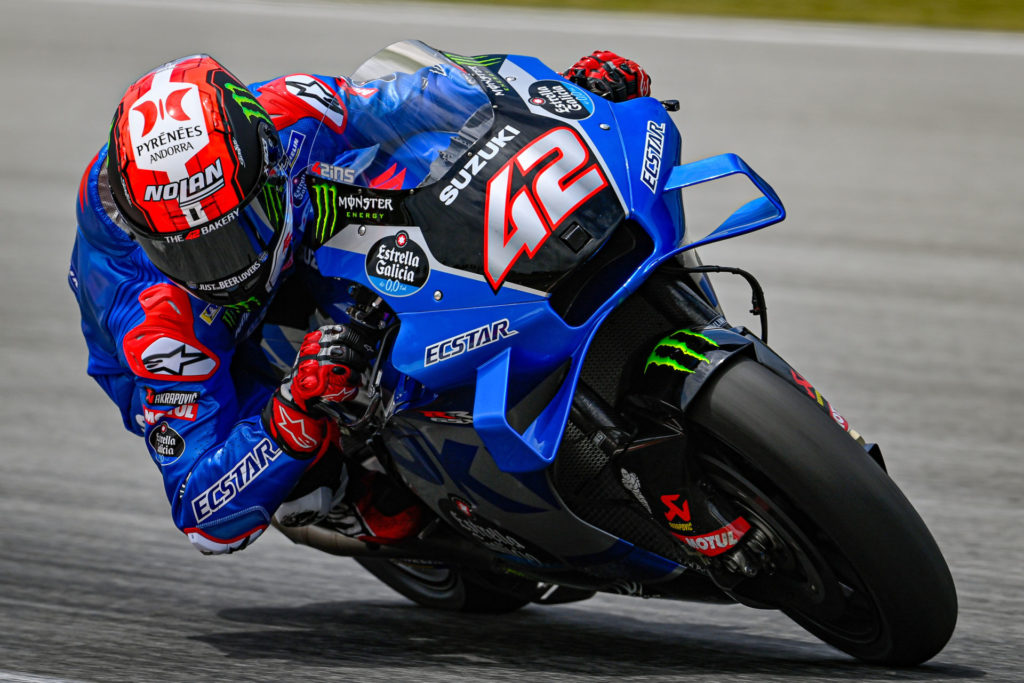 SUZUKI
For Suzuki, the day started well and ended well on the timesheets as Rins and Team Suzuki Ecstar teammate Joan Mir were joined on duty by test rider Sylvain Guintoli. Between them, the three put in over 180 laps. Rins crashed early on at Turn 9, rider ok, but the number 42 ended the day in third overall – starting there, dropping down a couple of places and then catapulting himself back ahead of Enea Bastianini (Gresini MotoGP Team).
Mir joined Rins in the top five early on before the 2020 Champion dropped down to seventh on the timesheets. With Suzuki looking for a little more power, the new engine has already been put through a good few paces and that work continued for the Hamamatsu factory. The ride height device – debuted half way through 2021 – is a key focus too, and the GSX-RR was spotted with the carbon reinforced chassis already seen on track during testing at Misano and Jerez last year.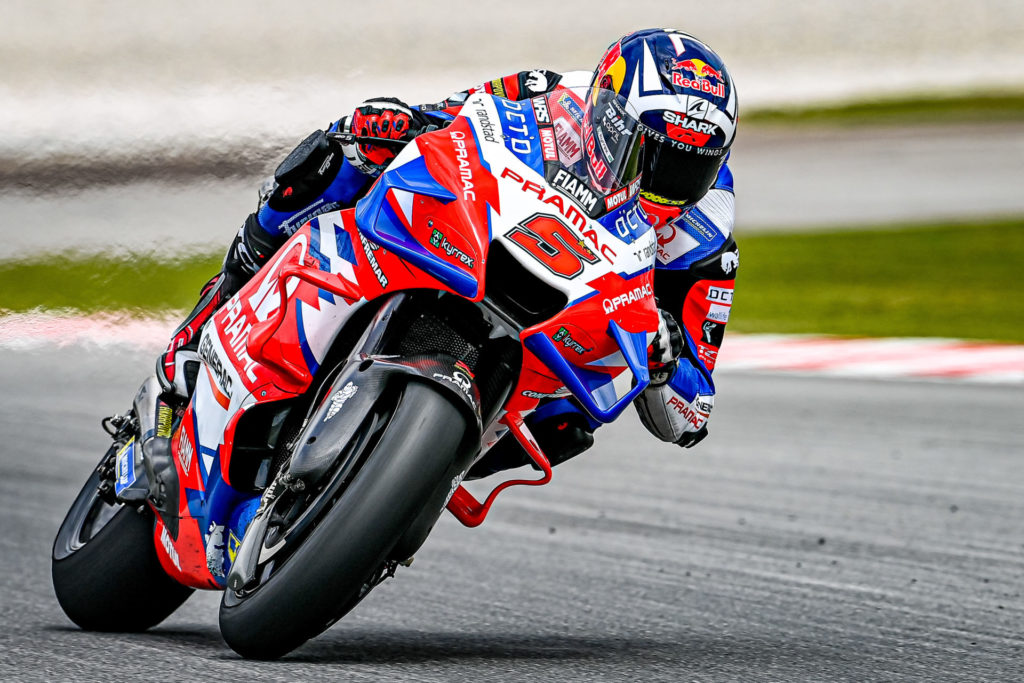 DUCATI
At Ducati, it was a more muted day on the timesheets for some of the more established riders, but that could speak to a sense of serenity in not yet going for a time attack. The fastest Borgo Panigale machine was Bastianini as he settles into life at Gresini and on the GP21, the 'Beast' shooting straight out the blocks into second for much of the day with a 1:58.638. He was fourth by the end of play with that laptime, with Johann Zarco (Pramac Racing) for close company in fifth.
The next Ducati on the timesheets was a stunning performance from Marco Bezzecchi (Mooney VR46 Racing Team) in P10. The Italian's 1:59.468 was no mean feat and sees him end Day 1 as the fastest rookie.
For those testing more than settling in, focus remained on the engine and the interesting exhaust evolutions brought by the Borgo Panigale factory. Francesco Bagnaia (Ducati Lenovo Team) and teammate Jack Miller had the new tail exhaust on both machines, as did Zarco. Pramac Racing's Jorge Martin had one to try too, and he was the fastest of the four in P17 just ahead of Mooney VR46 Racing Team's Luca Marini. Bagnaia was P19 ahead of Fabio Di Giannantonio (Gresini Racing MotoGP) as the rookie got back out… and Miller ended the day in P22. Ducati time attacks will be a huge point of interest on Day 2!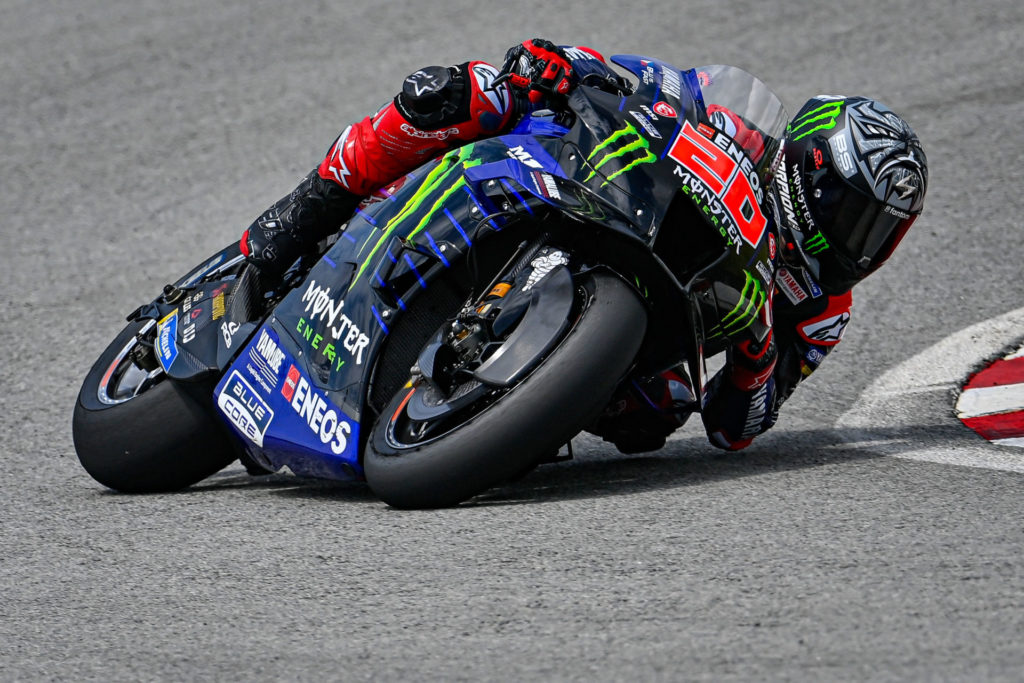 YAMAHA
The biggest talking point regarding the 2022 Yamaha YZR-M1 is the engine. We know the Iwata factory are trying to squeeze some more top speed from their package, so five days of pre-season testing are vital for them to see if work over the winter has paid off. Elsewhere, though, there's plenty of external updates to have a look at.
There's some new front aero, similar to the one seen on the Aprilia, while Yamaha have also been testing an additional set of wings that sit further down on the side fairings. Knee supports have been spotted, too, as have some silver wheels. These were seen on Ducatis at some Grands Prix in 2021, and it is aimed at keeping the tyre a bit cooler.
Reigning World Champion Fabio Quartararo (Monster Energy Yamaha MotoGP) was the leading Yamaha rider on Day 1 with a 1:59.002, the history-making Frenchman 0.6s from Aleix Espargaro's effort. Test Rider Cal Crutchlow was back on track and completed 47 laps. A best of a 1:59.558 put the British rider 11th on the timesheets.
Franco Morbidelli (Monster Energy Yamaha MotoGP) and Andrea Dovizioso (WithU Yamaha RNF MotoGP™ Team), both running 2022 YZR-M1s, were unable to dip into the 1:59s, while rookie Darryn Binder's (WithU Yamaha RNF MotoGP™ Team) best was a 2:00.818 after another 45 laps for the South African.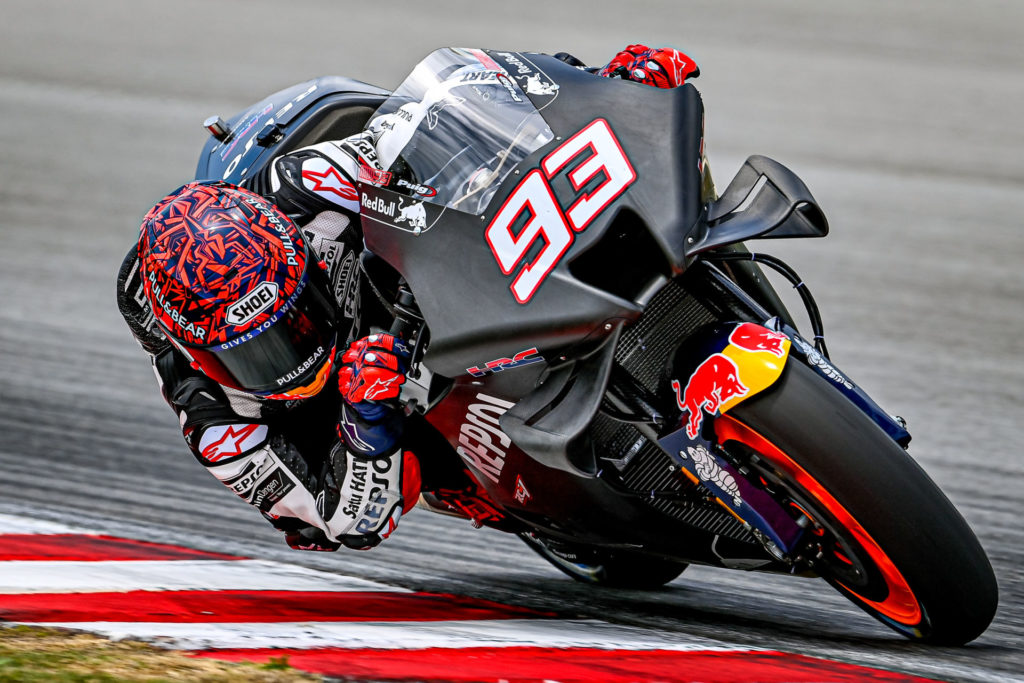 HONDA
The main talking point heading into the Sepang Test was the return of eight-time World Champion Marc Marquez (Repsol Honda Team). After recovering from a second bout of diplopia, the number 93 was back on an RC213V for the first time since October 2021 and headed out on last year's bike first to reacquaint himself with MotoGP™. It wasn't long before Marc Marquez was out on Honda's 2022 package though, and despite a small crash at Turn 9 in the morning, followed by another small tumble towards the end of the day at Turn 15, all seemed well with the Spaniard. A 1:59.287 and 62 laps put Marc Marquez in eighth place on the timesheets, a solid day at the office.
Factory teammate Pol Espargaro (Repsol Honda Team) got straight down to business with the 2022 model, the latest spec Honda that has been updated from the Jerez Test, with one of Takaaki Nakagami's (LCR Honda Idemitsu) machines running a never-before-seen chassis. Alex Marquez (LCR Honda Castrol) was lapping on the 2022 Honda as all four riders put in the work on Day 1.
The tail unit, the exhaust that runs past the tail unit, some aero, and a new engine were also on the checklist for the Japanese giants, as well as more than four chassis. It's Honda's biggest change within the same set of rules in MotoGP™ and the early signs are very much positive. Pol Espargaro ended the day in ninth, less than a tenth off Marc Marquez, and Nakagami and Alex Marquez ventured into the 1:59s.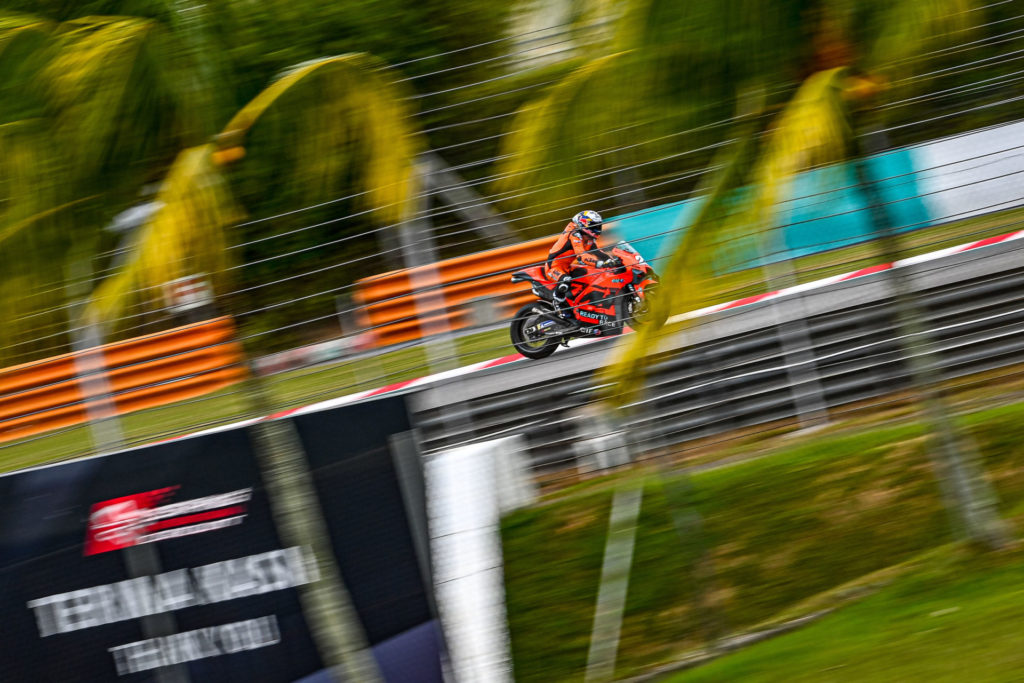 KTM
Brad Binder led the Red Bull KTM Factory Racing ranks on Day 1. The South African ended the day in P14, with teammate Miguel Oliveira in P16 – both within the high 1:59s. The two factory riders took over from the test line-up of Mika Kallio and MotoGP™ Legend Dani Pedrosa as KTM were focused on their new engine and a different air intake, as well as different aero. Both Binder and Oliveira crashed, both ok.
Aside from the technical novelties – and the arrival of new Red Bull KTM Factory Racing Team Manager Francesco Guidotti – there's an all-new line-up at Tech 3 KTM Factory Racing too. And the fastest KTM on Day 1 was in fact Tech 3's rookie sensation Raul Fernandez. He put in a 1:59.682 to end the day in P13. Moto2™ World Champion Remy Gardner, fighting through the pain barrier after breaking his wrist in training, put in a 2:00.470 and managed 60 laps.
That's a wrap on Day 1 but come back for more on Sunday! The field put in another 10:00-18:00 (GMT+8) shift at Sepang, with updates on motogp.com and across social media before another After the Flag from 17:30!
More, from a press release issued by Monster Energy Yamaha:
KICK OFF 2022 TESTING PROGRAMME IN MALAYSIA
Sepang (Malaysia), 5th February 2022
SEPANG OFFICIAL MOTOGP TEST
Today, the Monster Energy Yamaha MotoGP Team got back into action after the winter break. Fabio Quartararo and Franco Morbidelli rode 57 and 61 laps respectively, ending the first day of the Sepang MotoGP Official Test in 6th and 21st place.
6th FABIO QUARTARARO 1'59.002 / 57 LAPS
21st FRANCO MORBIDELLI 2'00.107 / 61 LAPS
Monster Energy Yamaha MotoGP's Fabio Quartararo and Franco Morbidelli were happy to be back aboard their YZR-M1s on the first official IRTA MotoGP testing day of 2022. They worked tirelessly in the typical Sepang International Circuit heat and ended in 6th and 21st place respectively in the Day-1 timesheets.
The duo wasted no time starting their 2022 testing programme. They both headed out just after 10am local track time and didn't finish until the clock hit 6pm. They followed this up by ten minutes of practising starts.
Quartararo was greatly motivated to ride at the Sepang circuit again for the first time since 2020. He used this opportunity to collect valuable data. He completed 57 laps in total, securing 6th place with a 1'59.002s lap, 0.631s from first, and ended the day with positive feelings.
After spending the winter break working on leg rehabilitation, Morbidelli was reaping the rewards. Overall, he had a positive first day back at the office. He rode 61 laps over the course of eight hours of high-temperature testing and set a best time of 2'00.107s. He took 21st place, 1.736s from the top.
FABIO QUARTARARO
Tomorrow I want to work a bit more on the bike. So far, I'm happy with the pace, but not with the time attack. Just before the time attack, I was doing laps on a medium tyre that had 26 laps on it. To make the step from that tyre to a new soft, I didn't take the full benefit of the soft. But tomorrow we will have another chance to do a time attack, and in general I need to improve my riding, because after three months I was not carrying enough corner speed and that's our bike's strong point.
FRANCO MORBIDELLI
It's great to be back on the MotoGP bike. Malaysia is tough. The first day in Malaysia is always tricky: hot conditions. But we went through it quite well. The performance was good, really good in some parts of the day and less in some other parts. But it feels right to only bring the good things to the track tomorrow.
More, from a press release issued by WithU Yamaha RNF MotoGP Team:
WithU Yamaha RNF MotoGP Team duo picks up official test work in Sepang 
Andrea Dovizioso and Darryn Binder got back in the saddle of their Yamaha YZR-M1 today in Malaysia.
Common hot and humid conditions welcomed the MotoGP World Championship at their return to the Sepang International Circuit for the first official day of testing in 2022, whereby the WithU Yamaha RNF MotoGP Team pair of Andrea Dovizioso and Darryn Binder kicked off and continued their pre-season preparations.
Following the winter break, Dovizioso eventually was back on track today trying his brand-new 2022 machine. The Italian did 60 laps around one of his favorite tracks and was happy not just to be back in action, but also to be back at the place where he celebrated two victories in the premier class already. He did a fastest lap of 2'00.342 minutes.
On his side, Binder already did his fourth full day of testing in Malaysia, after the rookie had the chance to fruitfully use three days of shakedown test earlier this week. The South African, who steps up from Moto3 to MotoGP directly this year, made further progress aboard the Yamaha YZR-M1 and clocked a personal best of 2:00.818 minutes today after 45 laps.
Before the WithU Yamaha RNF MotoGP Team is heading over to the newly added Mandalika Circuit in Indonesia next week, they will have a second and final day of testing at the 5.543-kilometer venue to further explore the potential of bikes and riders in preparation of the 2022 season.
ANDREA DOVIZIOSO
"Today has been a very strange day. Everybody is stressed, because we have only two days here in Malaysia, so everyone is doing a lot of laps. We did the same and started with a good feeling this morning. We tried a lot of things, but unfortunately, it wasn't really clear which direction to take and I couldn't improve my feeling. I don't think today is the day to understand the real situation of everybody. I don't know how much the soft tyre can improve things, because I didn't try and we don't have enough tyres here to do all the comparisons of material we want, so it's pretty tricky to program the two days. But anyway, tomorrow we have to confirm something and try to be a bit faster."
DARRYN BINDER
"Today we finished the first day of the official test here in Sepang. We worked hard today, I was working in a lot of different areas and tried some different things compared to the shakedown test. The end result was very similar to the final day of the shakedown test, which I wish I could have improved a lot more. I felt like we worked quite a lot during the day and I thought this is really going to reflect at the end of the day, but anyway, this is testing. I felt a little bit faster step by step, especially with the used tyres. We will try again tomorrow and see what happens. We'll just keep on working, keep on trying to learn and slowly but surely understand how everything works and see in which direction to go."
More, from a press release issued by Tech3 KTM Factory Racing:
2022 is finally here: 
Rookies Fernandez and Gardner enter MotoGP playground
Following three days of a Shakedown Test in Sepang earlier this week aiming to give newcomers additional track time to adapt to their new machinery, Tech3 KTM Factory Racing's rookies Raul Fernandez and Remy Gardner were joined today by the entire MotoGP class at the Sepang Test in Malaysia, kicking off the official 2022 pre-season. They concluded the day in thirteenth and twenty-fourth positions respectively.
After a positive Shakedown with impressive lap times, the Spaniard continued to adapt to the category while taking experience of riding alongside MotoGP world class riders. He registered an early good lap-time this morning of 2'00.547 before dedicating the day to the trial of different settings in the search of the bike that will suit perfectly his riding style. He eventually found some good information as he managed to do his best lap-time, 1'59.682, on lap 66 out of 69, only 1.311 seconds behind the top.
Under very hot and humid weather conditions, Moto2 World Champion Remy Gardner also continued his discovery work on the 2022 KTM RC16 in order to get ready for his first MotoGP race in Qatar. The Australian started the day early and fresh at 10:00 local time with the goal of trying many different parts and things on the bike throughout the day. Remy completed 60 laps today, and also managed to get his best lap-time, 2'00.470, at the end of the day, on lap 59, finishing the day in the office on a positive note.
Raul Fernandez
Position: 13th
Time: 1'59.682
Laps: 69
"Today has been a positive day again with a lot of hardwork. I think that we took a step further in the right direction and this is the most important to me. Without repeating myself too much, I am very happy and I want to continue to learn, continue my progression, and enjoy myself on the bike."
Remy Gardner
Position: 24th
Time: 2'00.470
Laps: 60
"Today has been a good day and we did a lot of laps. We struggled a little bit more compared to the three previous days of Shakedown because we tested some different parts and things compared to the settings used earlier this week. However, we have a clear direction of what we need to do so I am happy with that. Tomorrow, we will continue the work and push a bit more."
More, from a press release issued by Gresini Racing:
#SEPANGTEST DAY1: DIGGIA BOUNCES BACK, ENEA IMMEDIATELY UP TO SPEED 
It was the first official outing for Team Gresini Racing MotoGP as well as the maiden outing for both Fabio Di Giannantonio and Enea Bastianini aboard the Ducati Desmosedici machine at the Sepang International Circuit.
If on paper it is true that Rome-born Di Giannantonio had a three-day shakedown available before this test, a debilitating gastroenteritis prevented him from taking to the track in two out of three days earlier this week. The #49 rider showed up at the track 2kgs lighter, but still left a positive mark in this day one while giving important indications regarding his stamina. He completed more than 40 laps (already more than the overall number of laps in the first test) and a quickest lap-time of 2'00.047s, more than two seconds quicker than the one logged few days go.
Enea Bastianini did not waste any time and after only 23 he recorded an extremely competitive lap-time (1'58.638), only two tenths away from today's quickest time set by Espargaró. The lap came with a medium tyre option as Bastianini was the quickest Ducati rider and only three tenths shy of the track record.
4th – ENEA BASTIANINI #23 – (1'58.638s – 44 laps)
"After two tests, one at Jerez and another at Sepang, I have a clearer idea about my bike. After only one day in Malaysia, I'm more aware of the Desmosedici's potential. It's more stable and you can hit the brakes a lot later. With the new rear tyre on, I can open the throttle much more aggressively compared to the 2019 bike. With the new engine, Sepang becomes a fantastic circuit, one where I can push really hard."
20th – FABIO DI GIANNANTONIO #49 – (2'00.047s– 42 laps)
"The good news is that we're back in shape. We needed it, because these past days have been tough. I'm quite happy with how today went: we lapped a lot and Sepang has always been a circuit that I like. It's really crazy to lap here with the MotoGP: we had a good impression and we made quite a good step forward compared to few days ago. We're working on the direction to follow together with Manuel (Poggiali) and my super team, as well as on some set-up changes to make."
More, from a press release issued by Mooney VR46 Racing Team:
MARCO BEZZECCHI BEST ROOKIE OF THE DAY1 IN SEPANG ON THE DAY OF LUCA MARINI'S DEBUT WITH THE GP22
At the first official MotoGP test of the 2022, Top10 at the end of the day for the rookie of the Mooney VR46 Racing Team. Debut on the Ducati Desmosedici GP22 for Luca Marini
Sepang (Malaysia), February 5th 2022 – The official MotoGP test starts at the Sepang International Circuit with the Mooney VR46 Racing Team riders working on the Ducati Desmosedici GPs. Marco Bezzecchi closes the combined standings of the Day1 in tenth place, first rookie, while Luca Marini is 18th.
49 laps to continue to take the measurements of the new category and the best personal lap time of the week for Marco who signs a good 1'59.468 and is just over a second from the very first riders (A. Espargaro, 1'58.371).
On the other hand, Luca made his debut as he brought the Ducati GP22 to the track for the first time today (52 laps). Some technical issue forced him into the garage in the morning, before finding the right set up and ending the day in crescendo with a positive 1'59.966.
The last day of testing in Malaysia is scheduled for tomorrow for both, before flying to Indonesia to discover the Pertamina Mandalika International Street Circuit.
Luca Marini
A difficult day today, a more uphill start than we could expected. It was not easy, mentally above all, to sit for such a long time in the garage to understand exactly what was happening on the bikes. These are things that can happen with a new bike on the first day of testing of the new season. We will continue to work to be ready and make the most of tomorrow sessions. I have only been able ride in the last two hours, I don't know what kind of sensations I have on the new Ducati, it is too early and we need to consider that for me it is the first time in Sepang with the MotoGP. My 2022 will start tomorrow.
Marco Bezzecchi
I am very happy, we have continued the work started during the shakedown and I certainly cannot complain about today. At the end, with the new soft tire, I also set a very good lap time. We are doing a good job with the whole Team and I feel better every day on the bike, it is more and more mine. Compared to Moto2, there is more power to manage, a different style and even the tires are completely different. However, a day to remember: riding on track with the riders that until now I had only seen on TV was exciting.
Pablo Nieto
Team Manager
We have closed the first real day of testing of the 2022, for the first time on track together with all the MotoGP riders. We had an uphill start this morning, we had some technical problems at the beginning, things that can happen with a new bike, but we have finished positively. The riders and the whole Team are doing a good job and tomorrow we can make another step forward. Marco arrives from three days of testing here in Sepang, he certainly already has more pace than the others and today he was very fast, just one second from the new track record. Luca was forced into the garage by some technical issues, but he did well in the second half of the afternoon.
More, from a press release issued by Pramac Racing:
SEPANG TEST – FIRST DAY OF TESTING BRINGS POSITIVE FEELINGS FOR BOTH RIDERS
Today marks the official start of the 2022 MotoGP season with the first day of testing at Sepang International Circuit. There was great excitement for the long-awaited return to the track after the winter break. The day started on a positive note and the riders immediately had a good feeling with the new bike. Johann completed 47 laps, with the fastest lap at 1:58.946 while Jorge finished the day with 49 laps, with the fastest lap at 1:59.949. The first day of testing was certainly more than satisfactory.
Jorge Martín
I am satisfied with this first day of testing, the first day after the winter break is not always easy but we are working hard. I had a very good start this morning and then struggled a little bit more in the afternoon because of the high temperatures. I am sure we will improve tomorrow.
Johann Zarco
I had a good feeling from the beginning and I was able to be fast all day. In the afternoon we improved, I became more aware of the bike and I finished in the top five. Tomorrow will be another important day to try new solutions.
More, from a press release issued by Team Suzuki ECSTAR:
SUZUKI SATISFIED AS 2022 SEASON KICKS OFF IN SEPANG
Alex Rins: 3rd – 1'58.471 (+ 0.100)
Joan Mir: 7th – 1'59.067 (+ 0.696)
Sylvain Guintoli: 26th – 2'01.390 (+ 3.019)
A day after Team Suzuki Ecstar launched their stylish 2022 GSX-RR it was time to put it to the test at the scorching Sepang International Circuit.
With this being the first time that Joan Mir and Alex Rins had taken to the track since the last test in Jerez in November, there were plenty of new things to try, as well as fine-tuning parts already tried.
The engine received some further improvements over the winter, and early feedback from the riders on this finalised version was very positive. It was necessary, with this new engine in the bike, to adapt and adjust several other parts such as chassis, swingarm, and electronics. Team Suzuki Ecstar also brought a new version of the ride height adjuster first seen last season. Overall, Mir and Rins felt satisfied with the work done on the first day, especially as they both placed close to the top time.
Rins completed a whopping 72 laps – the highest number of any rider – taking time to feel the improvements in the engine of his GSX-RR.
He reported positive feelings overall but is looking to work on aerodynamics tomorrow.
Mir put in 68 laps and he also tried many new items. His feedback was good and he felt he could improve his lap time tomorrow, when he also hopes to work on electronics.
Team Suzuki Ecstar will be back on track tomorrow for the second, and final, test day in Sepang.
Alex Rins:
"I've been waiting for this test for a long time, so I think this could be why I was fast early on – I was so keen to be back on track! Overall, I'm happy because my pace was strong, and I was able to test many different things. It's always interesting and important to find what the strongest parts are, and what still needs improvement. I can already feel that the engine is more powerful, and the data reflects that, so let's see what we can do tomorrow."
Joan Mir:
"It's the first day back at school! The feelings are positive so far, even though the heat here is unbelievable. We tried many items, especially the chassis parts, and it's a bit early to take solid conclusions but my feelings were good today. I'm pleased with how everything is going so far and tomorrow we'll continue to learn how to get the maximum out of the bike. We need to work a bit more on the electronics, because we didn't have enough time to get everything 'on point' yet. My lap time was OK today, pretty solid, but I know I can do more."
Sylvain Guintoli:
"I've been here in Sepang for a few days longer than Alex and Joan because we had the three-day shakedown test. This allowed me to test a lot of the items already; the new engine, the aero packages, the new rear ride height adjuster. So there was a lot going on during the shakedown. Today I turned my attention to the electronics side, and I tried some new evolution items there; I also tried some new front suspension options. I'm happy because we completed the programme for today, and I'm looking forward to tomorrow."
Ken Kawauchi – Technical Manager:
"Today we could try many items, some were good and some still need some work, but this is normal in testing. For the first day of the season, we're satisfied, because the riders need time to adjust to being back on the bike and to discover the improvements. Tomorrow we'll brush up on a few things and we hope to have another good day."
More, from a press release issued by Repsol Honda:
Stealth mode begins 2022 for Repsol Honda Team
Marc Marquez and Pol Espargaro were on track for the first time in 2022 as the Sepang Test began, the Repsol Honda Team sporting a striking black and white testing livery.
The Repsol Honda Team wasted no time in getting their 2022 preparations underway as Pol Espargaro was one of the first riders to leave his garage when the track opened at 10:00 Local Time, Marc Marquez just a few minutes behind. Dressed in a special black and white testing livery ahead of the launch of the Repsol Honda Team on February 08 at 12:00 CET, the pair completed a comprehensive first day under the oppressive Sepang sun.
Marquez suffered a small fall at Turn 9 in the opening hours of running, able to return to the Repsol Honda Team garage and avoiding any injury. He soon returned to the circuit and was sitting comfortably in sixth place when he and his team paused for lunch around 13:00 Local Time. A second harmless crash occurred at Turn 15 in the final half an hour of the day as Marquez continued to find the limits of his new RC213V. Eighth place and a best time of 1'59.287 was Marquez's reward after 62 laps around the 5.5-kilometre-long circuit. The time put Marquez 0.916s off the best lap of the day.
Pol Espargaro's progress was steady across the opening day as he got up to speed with the 2022 Honda RC213V. Inside the top five and under the 2'00 barrier just before the lunch break, the #44 completed a total of 64 laps on his first day back on track. Ultimately ending the day in ninth place with a best time of 1'59.353, 0.066s behind team-mate Marc Marquez as they begin the season. All involved are pleased with the work done and preparations are underway for the second and final day in Sepang. Espargaro is under no illusions about the amount of work that needs to be done in just five days of pre-season testing but is focused and motivated for what's to come.
Action resumes at the Malaysian circuit tomorrow, Sunday, February 06, for the final day of the Sepang Test. Both Repsol Honda Team riders will continue to work through the remainder of their test plans as they assess Honda's latest MotoGP machine.
Marc Marquez
8TH  1'59.287
"To return to the track after the period we have lived through was very rewarding, but it was a long and hard day. I feel good with the bike and most of all, it was a normal day after a long time. Good, fast, some small mistakes – today had everything! The new bike is better but we still have a lot to understand because this is a very big change to the bike. Now the character is different and I need to understand the limits, this is what the pre-season is for. Tomorrow will be important to do a longer run to keep learning and understanding."
Pol Espargaro
9TH  1'59.353
"It feels great to be back riding and especially on this bike. It's amazing to see the effort of Honda, not just bringing two new bikes for the factory riders but four bikes for all the Honda riders. Honda has made a huge effort to do this and it's going to help us a lot. But we have a lot of work to do, with just five days of testing we have to use all the time we can. We've had a good first day on a new bike but the best is yet to come and hopefully we can continue to improve and show the potential tomorrow. I spent the day working on mediums, not chasing a fast time as today we were trying many things. Tomorrow we'll look for a lap time."
OTHER USERS BOUGHT THIS!!!