Editorial Note: Joan Mir and Johann Zarco both turned a fastest lap time of 1:31.586, but Mir was listed higher because he did his lap time first.
FIM MotoGP World Championship Pre-Season Test
Mandalika International Street Circuit, Indonesia
February 12, 2022
Day Two Lap Times (all on Michelin tires):
Luca Marini, Italy (Ducati), 1:31.289
Marc Marquez, Spain (Honda), 1:31.481
Maverick Vinales, Spain (Aprilia), 1:31.516
Fabio Quartararo, France (Yamaha), 1:31.564
Joan Mir, Spain (Suzuki), 1:31.586
Johann Zarco, France (Ducati), 1:31.586
Enea Bastianini, Italy (Ducati), 1:31.599
Pol Espargaro, Spain (Honda), 1:31.605
Jorge Martin, Spain (Ducati), 1:31.665
Brad Binder, South Africa (KTM), 1:31.814
Franco Morbidelli, Italy (Yamaha), 1:31.849
Alex Rins, Spain (Suzuki), 1:31.884
Aleix Espargaro, Spain (Aprilia), 1:31.906
Takaaki Nakagami, Japan (Honda), 1:31.918
Alex Marquez, Spain (Honda), 1:31.980
Fabio Di Giannantonio, Italy (Ducati), 1:32.047
Miguel Oliveira, Portugal (KTM), 1:32.200
Andrea Dovizioso, Italy (Yamaha), 1:32.303
Jack Miller, Australia (Ducati), 1:32.318
Raul Fernandez, Spain (KTM), 1:32.401
Marco Bezzecchi, Italy (Ducati), 1:32.471
Remy Gardner, Australia (KTM), 1:32.598
Darryn Binder, South Africa (Yamaha), 1:33.053
Francesco Bagnaia, Italy (Ducati), no time recorded
More, from a press release issued by Dorna:
#MandalikaTest: Marini takes to the top on Day 2 at Mandalika
The top 20 end the day within a second, with Mooney VR46 putting Ducati in the driving seat
Saturday, 12 February 2022
Mooney VR46 Racing Team's Luca Marini stole the headlines on the second day of the Official MotoGP™ Mandalika Test after setting a 1:31.289, beating eight-time World Champion Marc Marquez (Repsol Honda Team) to the top by 0.192. Maverick Viñales put his Aprilia Racing machine into P3 as a second covers 20 riders heading into the final day of pre-season on Sunday.
It was a busy start to the second day as we saw the first 1:31s come flying in, with the top five riders split by less than a tenth as midday approached. Rain loomed in Lombok but ultimately stayed away for the most part and we witnessed plenty of action in the final hour of the day. Time attacks were on the menu and a lot of riders were able to improve their times, most notably Marini, who moved the goalposts to a 1:31.289.
Track conditions haven't been perfect on Day 2, and off line the track is still dirty, but it's been good enough for the teams and riders to be able to get some meaningful testing under their belts.
DUCATI
After a more muted start to life on a GP22 for Marini at Sepang, the Italian blasted out the blocks with a benchmark time attack on Day 2 in Indonesia. A host of riders put in fast laps towards the end of the session, but the 1:31.289 from Marini put him nearly two tenths ahead of Marc Marquez – after earlier, five riders had been within less than a tenth at the top. Marini's lap is made even more impressive by the fact he first raced on a GP19 and is now starting his second season on a GP22.
The Borgo Panigale presence at the front was bolstered throughout the top ten, with Johann Zarco (Pramac Racing) in P6 ahead of Sepang's fastest rider, Enea Bastianini (Gresini Racing MotoGP™). Jorge Martin (Pramac Racing) was ninth, with Francesco Bagnaia (Ducati Lenovo Team), after a tougher Day 1 well down the timing sheets, completing the top ten.
Fabio Di Giannantonio (Gresini Racing MotoGP™) was the top rookie once again as he got down to a 1:32.047 in P17, with a few tenths in hand over his fellow debutants. Marco Bezzecchi (Mooney VR46 Racing Team) was P22 and the third rookie.
Jack Miller (Ducati Lenovo Team), meanwhile, was P20 as work continues on putting everything together. He said he got through his whole programme of test items – which was a lot – and is looking forward to putting a time attack in.
Pitlane reporter Simon Crafar reported that Ducati appear to be moving away from the long, long exhaust we'd seen earlier in testing, and Miller confirmed it. The Australian said it had more of an impact on the older machine, but the positives don't translate onto the GP22 and they "don't need it".
HONDA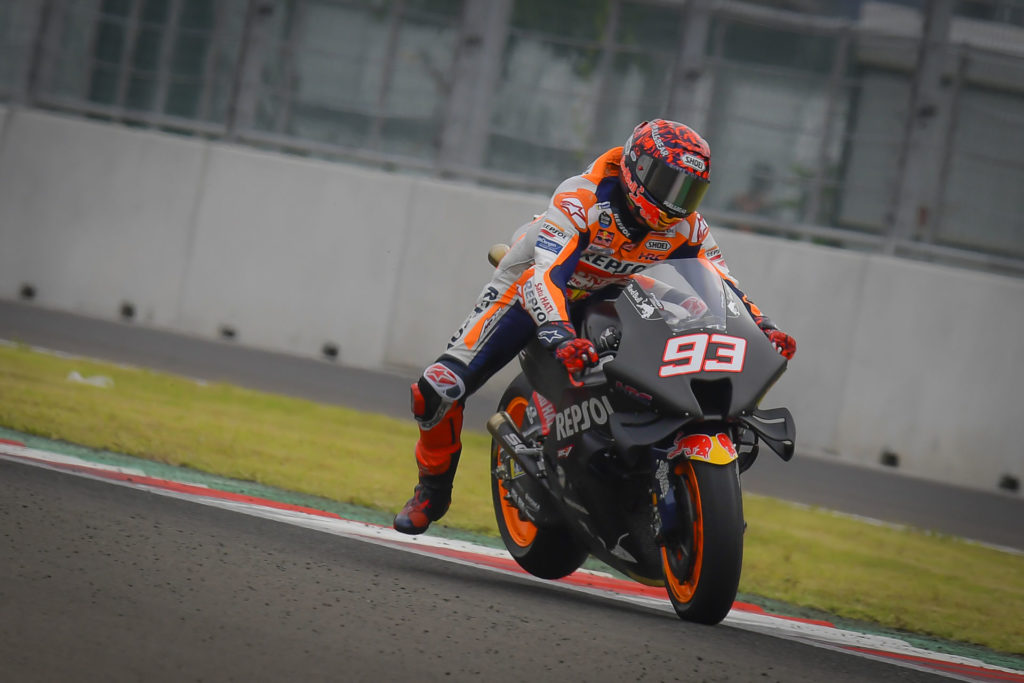 74 laps and the second fastest time of the test so far signals a good day for Marc Marquez and Repsol Honda. The Spaniard's best time was set on his penultimate lap of the day, a positive sign for the number 93, as one more day of testing remains before the action starts for real in Qatar. Teammate Pol Espargaro made it two factory Hondas in the top 10, the number 44 ending Saturday's action in P8, 0.3 away from the top. Positive vibes are emanating from the Japanese manufacturer's camp.
It was P15 and P16 for LCR Honda Idemitsu's Takaaki Nakagami and LCR Honda Castrol's Alex Marquez, both riders were six tenths away from Marini's pace at the end of the day having completed a combined 142 laps.
APRILIA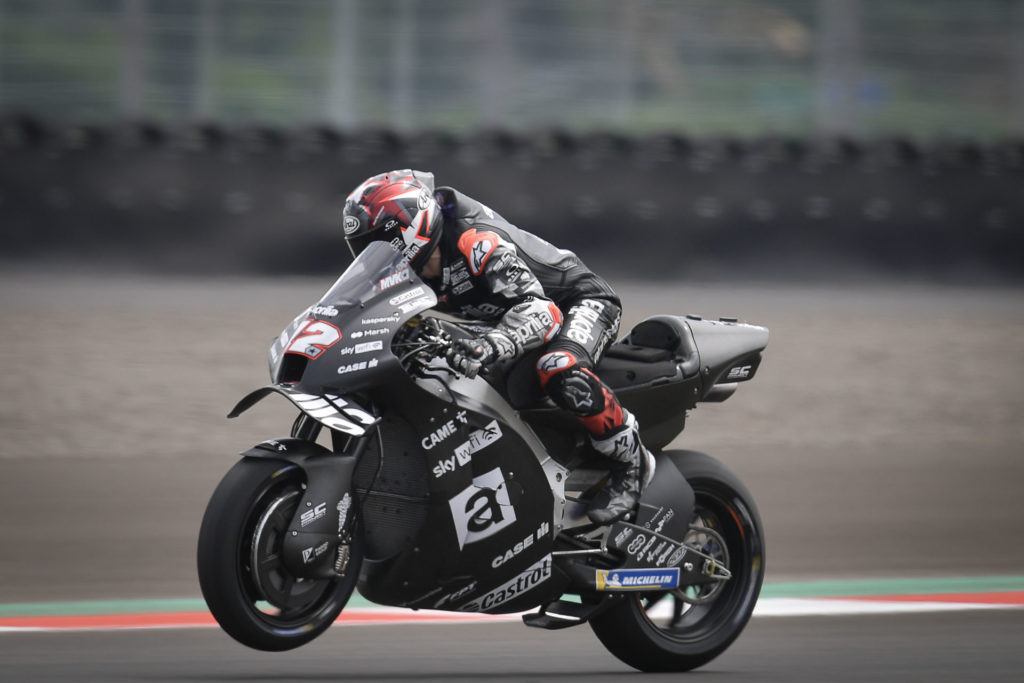 The Noale factory continues to shine in pre-season. Viñales was able to go P3 on his 66th lap of 68, yet another encouraging outing for the Spaniard on the 2022 RS-GP, but Top Gun still has margin to improve. Braking on the side of the tyre has been an issue on the Aprilia for Viñales, so he's been losing time in the final sector in Mandalika and had a few laps of three red sectors prefacing a deficit in the final one.
In addition, teammate Aleix Espargaro's time attack was interrupted by a crash at Turn 12, so the number 41 heads into the last day in 14th.
YAMAHA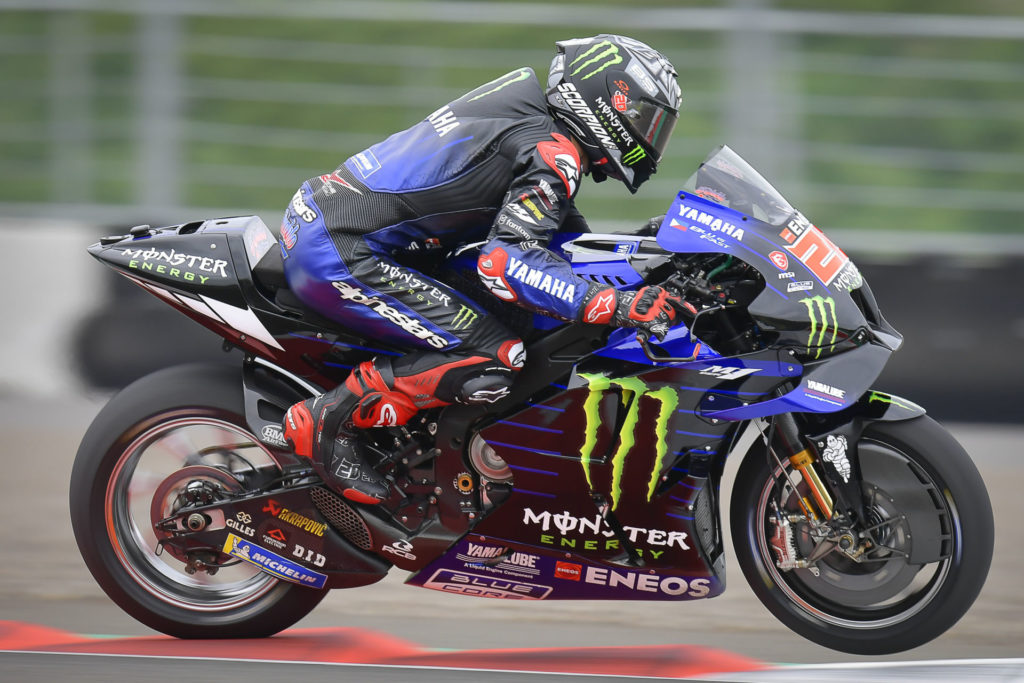 Top Yamaha honours once again went the way of Quartararo who has, so far, enjoyed his time in Mandalika after what seemed an underwhelming Sepang Test. The Frenchman is feeling good on used tyres but not so great on new softs, so that's an area to look at on the final day of testing. 68 more laps were completed by the reigning Champion, who briefly sat as the fastest rider on track before his time was bettered by Marini, Marc Marquez and Viñales. Pitlane Reporter Simon Crafar also revealed that the World Champion has been testing two different chassis again.
Franco Morbidelli (Monster Energy Yamaha MotoGP™) notched up 64 laps as the Italian continues to work his way back to full fitness and full confidence, finishing three tenths away from teammate Quartararo. Meanwhile, compatriot Andrea Dovizioso (WithU Yamaha RNF MotoGP™ Team) did climb into the top 10 in the final hour, but the Italian was shuffled back down the order when the time attacks were slung in. Dovizioso crashed unhurt at Turn 9 on Day 2.
Rookie Darryn Binder (WithU Yamaha RNF MotoGP™ Team) chopped 1.4s off his best time from Day 1 to Day 2 on another day where the South African continued to adapt to life as a premier class rider. 54 laps came in from Binder but a crash at Turn 12 with just seven minutes to go slightly hampered what looked like a promising day. The number 40 finished 1.7s away from Marini's pace. .
SUZUKI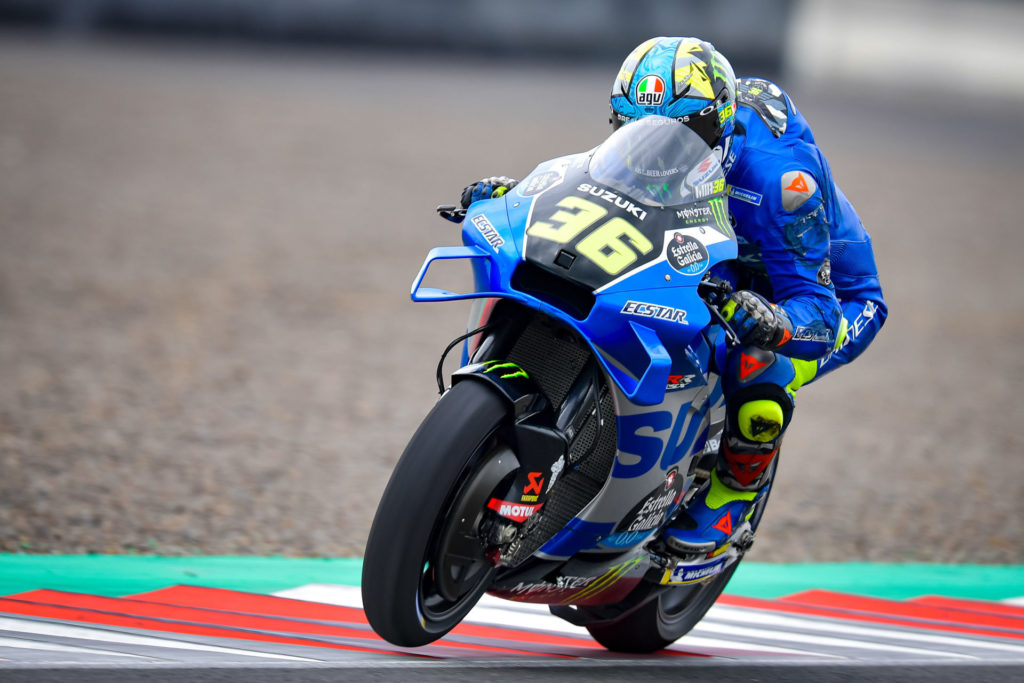 On Day 2, 2020 MotoGP™ Champion Joan Mir was the lead Team Suzuki Ecstar machine, slotting into fifth and with the exact same fastest lap as Zarco just behind him. But from Marc Marquez in second to Zarco in sixth, the laptimes were covered by one single tenth. Mir also crashed on Day 2 at Turn 11, rider ok. Alex Rins (Team Suzuki Ecstar) was down in P12 after getting shuffled well down the order in the flurry of late time attacks, having earlier been one of the riders in the top five covered by a tenth.
Mir said they were missing some team members due to isolation, which made the day harder, but finally they "found the way". He said every exit over testing has felt better and better, and the difference he could feel on the softer tyre was a positive – something that could prove interesting come qualifying…
KTM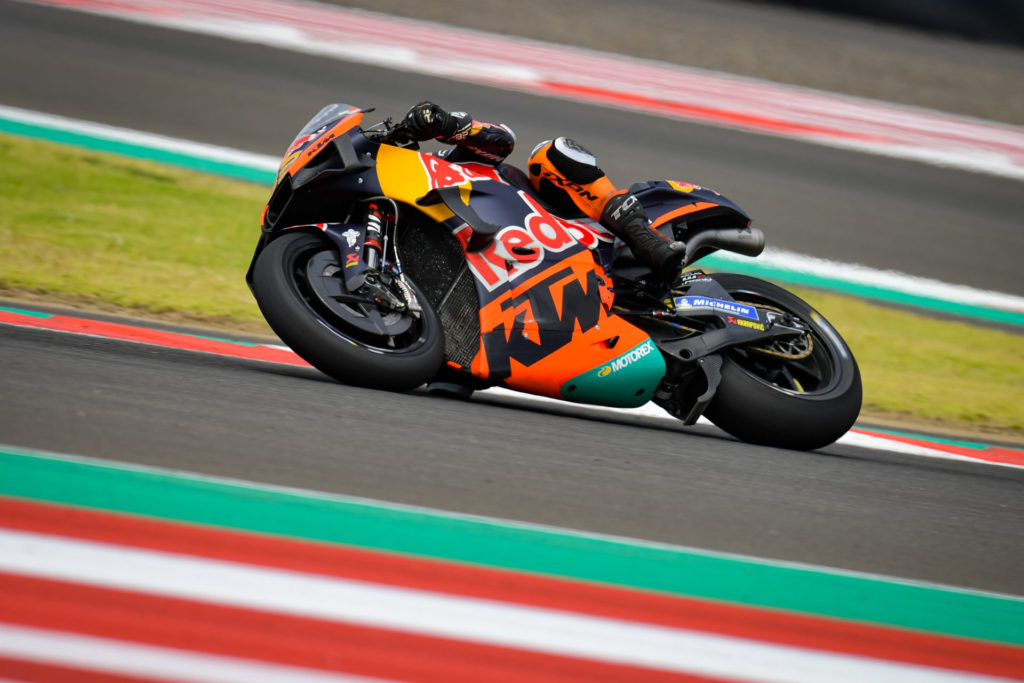 Brad Binder (Red Bull KTM Factory Racing) looked set to end the day quickest until late on, with the South African then shuffled down to P11 as many in the field put in time attacks. Nevertheless, the number 33, the KTM and the Mandalika track seem to make a good mix after now two days of impressive performances. Binder did 53 laps, and had his day cut marginally short as the South African suffered an issue on his last exit.
Miguel Oliveira (Red Bull KTM Factory Racing), meanwhile, put in a mammoth 84 laps and was P18 was a 1:32.200. On rookie watch, Raul Fernandez kept the Tech 3 upper hand but was second debutant on Day 2 and suffered a crash. He headed up a gaggle of four rookies from P21 to P24. 2021 Moto2™ Champion Remy Gardner continued battling through the pain barrier and put in an impressive 69 laps, with a best of 1:32.598.
That's it from Day 2 of MotoGP™'s first touch with Pertamina Mandalika Circuit. There's still one more day of action in Indonesia before we set sights on the season-opening Qatar GP, so stay up to date on on motogp.com and across social media as we digest the #MandalikaTest!
More, from a press release issued by Tech3 KTM Factory Racing:
Tech3 KTM Factory Racing Continues Progress on Day 2 in Mandalika
It was a new day for the orange duo Remy Gardner and Raul Fernandez at the beautiful Pertamina Mandalika Circuit for the second day of the Official MotoGP Mandalika Test, as both rookies returned to track-action this morning at 9:00 local time. Unlike yesterday, the weather conditions were on our side for the first half of the day, and despite some dark clouds threatening the MotoGP paddock at lunch time, the day went on with no interruption.
As per his habit, Raul Fernandez was amongst the first riders to leave the pit box this morning following the start-signal in order to continue his learning-process of the new circuit. With a dry track, we witnessed times going down for all the riders, and it was no exception for the number 25 who managed to improve his best-lap time from yesterday by 0.651 seconds within the first hour of the day. Shortly after that, Raul had already registered thirty-one laps by 11:00 local time and got his best-lap of the day in 1'32.401. Within the final hour, the KTM Factory rider suffered a crash in turn 12. Nothing too serious came out from the medical check, and the Spaniard will now get some rest before heading back on track tomorrow for the final day here in Mandalika.
On the other side of Tech3 KTM Factory Racing's box, Remy Gardner also continued his progress while being cautious with his injured wrist. Just like his teammate, the Australian rapidly improved his feelings on the brand-new layout as well as his lap-time from yesterday. Before lunch break, he had already done forty-one laps with a best-lap time of 1'33.110. The afternoon was dedicated to the trial of different bike set-ups, and some good directions came out of it as the number 87 got his best-lap time of the day in 1'32.598 on lap 66/69. Remy also practiced starts during the final fifteen minutes of the day dedicated to practice starts.
Raul Fernandez
Position: 21st
Time: 1'32.401
Laps: 52
"In general, we had a positive day again because I was in the Top 15 most of the day, which is important for us. Of course towards the end of the day I crashed, but I feel good overall, despite a small pain in my head. When you ride at 300km/h, a crash that seems stupid is not so stupid in the end, so I will get some rest tonight. I am happy with the work done today, and I will try to give my maximum for the final day tomorrow."
Remy Gardner
Position: 23rd
Time: 1'32.598
Laps: 69
"Today has been a long day because we ended up doing many laps, 69. At midday, the track was nearly sixty degrees, so we waited quite a while to go back on track, and towards the end of the day, we found some good directions, although we still need to make big improvements. We are not completely off the pace right now, which is good, so we continue to work, try to improve and find better solutions before Qatar. It is a very physical track with a lot of fast changes of direction and I am struggling a bit with my wrist so maybe tomorrow I will try to do less laps."
More, from a press release issued by WithU Yamaha RNF MotoGP Team:
Mandalika familiarization continues for Dovizioso and Binder 
The WithU Yamaha RNF MotoGP Team achieves further improvements throughout the second day in Lombok, Indonesia.
Saturday saw the MotoGP riders getting more familiar with the picturesque Mandalika Circuit. In scorching heat, the WithU Yamaha RNF MotoGP Team riders stepped forward today, getting along better and better at the 4.3-kilometer Indonesian venue, while track conditions slightly meliorated again.
After finding some positives in riding his Yamaha YZR-M1, Andrea Dovizioso aimed to continue where he left off on Friday, but a crash in the morning halted his progress early. Yet, the experienced Italian managed to regain confidence later on and eventually lowered his lap time from day one in the afternoon by 0.942 seconds to a personal best of 1:32.303 minutes with further 70 laps on his account.
At the same time, Darryn Binder displayed some great progress today. The MotoGP rookie, who is still learning his new machine and had to master the new layout at once, went 1.442 seconds faster than during the opening day to achieve a personal best of 1:33.053 minutes. Binder lapped the track 54 times today.
Sunday marks the final day of pre-season testing for the WithU Yamaha RNF MotoGP Team and the entire premier class field at the Mandalika Circuit, before everyone gears up for the first round of 2022 on March 6th in Qatar.
ANDREA DOVIZIOSO
"It was a strange day, because I crashed and I forgot how this feels. Apparently, I don't remember the last time, but it was in 2020, so long time ago. And I did it the right way, really fast in turn eight. But I know I made a small mistake and I lost the front. That changed the plan a little bit, so I couldn't work through it accordingly. But when we restarted in the afternoon, my feeling was better and I'm happy about the improvements we did with the bike, as we tried some material and the feeling was better. That was very important, because we have to take a decision for the first round in Qatar. About that I'm happy. Unfortunately, I did the fast lap time one hour before the end, because we had something to try. Therefore, the gap is a bit too big, but I hope we will have another day without rain to work on details, because for sure I still have to continue to adapt. I'm better and better, but it's not enough yet."
DARRYN BINDER
This will be my first time stepping up to a really big bike! It's a big jump from Moto3, but I'm looking forward to the test. It's also exciting to join a big team and meet all the new people. They've got a lot of experience, and I'm thrilled to work with these guys for the first time and to learn from them. In these next two days, I look forward to building things slowly and just really enjoy it, and try to learn as much as I can to take home with me before the break and prepare for next season.
More, from a press release issued by Mooney VR46 Racing Team:
LUCA MARINI THE FASTEST RIDER OF DAY2 AT MANDALIKA
The rider of the Mooney VR46 Racing Team sets the best lap time of the day on the Ducati Desmosedici GP. P22 for Marco Bezzecchi.
Lombok (Indonesia), February 12th 2022 – Luca Marini closes the second day of testing at the Mandalika International Street Circuit with the best time lap on the Ducati Desmosedici GP of the Mooney VR46 Racing Team. Step forward also for Marco Bezzecchi who has improved his lap time by almost two seconds, 22nd in the combined standings.
On the track among the very first guys in the morning and into the garage in the hottest hours to then exploit the full potential of his Ducati at the end of the day, Luca completes 57 laps and signs an excellent 1'31.289 which means the provisional P1 – the first time for him and the Team in an official testing session – with the best lap time in the combined standings of the two days.
Busy day (62 laps) also for Marco, working from the opening of the pit lane to the end of the session to continue his approach to the new category. He sets a best lap time of 1'32.471.
Pre-season is close to the end for both with the last day of official MotoGP tests scheduled for tomorrow, again at the Mandalika International Street Circuit, from 09.00 AM to 05.00 PM local time.
Luca Marini #10
A really good day today, a beautiful step forward compared to the 2021 season. I had a good feeling from the start and than better and better. We are on the right way, I have to fully understand the real potential of the Ducati GP22, but it can be a very fast bike. We can grow further and be really competitive. It was a great lap, but we need to keep improving on the pace. I looked at the others guys on the track and we can be more consistent if we work together with all the Ducati riders. Being in front is always nice, even if it's just a test: tomorrow we will try some changes on the setting, I don't know if there will be time for another time attack, I want to be ready for QatarGP.
Marco Bezzecchi #72
Overall, a good step forward from yesterday and many congratulations to Luca and the Team for today's result. I feel more comfortable on the bike and the pace is good. On the fastest lap side we can do better: I made a few mistakes and I didn't take full advantage of the soft tires. Compared to Sepang, here I'm struggling more to manage the power of the Ducati and finding the right confidence with the front to get closer to the limit. We will continue to work on the data.
Pablo Nieto
Team Manager
A nice step forward in the second day of testing here in Mandalika: a positive Day2 for the whole Team. Luca finished at the top of the standings, it's the first time for everyone. I am very satisfied with the work done, the guys are giving their 100%. It is a test, we need to stay focused and continue in this direction. Tomorrow the track will be even more rubberised, the times will drop further. Marco did well too, a nice improvement compared to yesterday, one more day of experience and work on the setting and the position.
More, from a press release issued by Monster Energy Yamaha:
MONSTER ENERGY YAMAHA MOTOGP MAKE STEPS ON DAY 2 AT MANDALIKA
Lombok (Indonesia), 12th February 2022
MANDALIKA OFFICIAL MOTOGP TEST
TEST
Despite dark clouds looming above the new Mandalika Circuit on Day 2, Monster Energy Yamaha MotoGP's Fabio Quartararo and Franco Morbidelli enjoyed a positive second day of testing. With the track conditions improved compared to yesterday and with more laps under their belt, the teammates were able to better compare their bike's settings to last week's during the Sepang Test and took 4th and 12th place respectively in both the Day 2 and combined timesheets.
4th FABIO QUARTARARO 1'31.564 / 68 LAPS
12th FRANCO MORBIDELLI 1'31.849 / 64 LAPS
Monster Energy Yamaha MotoGP's Fabio Quartararo and Franco Morbidelli used the second day of testing in Indonesia to work through a number of different test items and made positive progress, taking 4th and 12th place respectively in today's standings and the combined rankings.
Like yesterday, Quartararo was quick to find a good rhythm and by 11:00 local time he had set a 1'31.820s, which put him in second place provisionally. He held the position for the majority of the session until the pace quickened in the final hour. He responded with a 1'31.564s lap, set on 66/68, to end the day in fourth place in the Day 2 and combined results, 0.275s from first.
After a solid first day of testing, Morbidelli was fully motivated to get back to work this morning. He stayed completely focused during an intensive session, aiming to further improve his feeling with the bike. It paid off. He posted a solid 1'31.849s on lap 63/64, which put him in 12th in the Day 2 and combined timesheets, with a 0.560s margin to first.
FABIO QUARTARARO
Pre-season testing is hard work, but today we had fun. I'm feeling really happy on used tyres, which is something I didn't expect to be that good. Our pace is really strong! But with the soft tyre I'm not feeling so good. The lap time is not so bad, but we need to improve on the time attack. We have one more day of testing tomorrow, and I think we will do a kind of race simulation, a short one. But we know the race pace is there, so I want to focus more on the time attacks. But overall, I feel quite happy.
FRANCO MORBIDELLI
We are improving step by step. Today I had the chance to do my first time attack of the year. I definitely felt some rust, but it's good to do it and see even clearer where the bike needs to improve. During a time attack the problems are magnified. It was definitely a good day, we improved again, and then we did a time attack, like I said, to know where we still need to improve. There are some changes that we can make to improve the feeling, which is not bad at the moment, but it's also not great. You need to have a great feeling with the bike in this category to be at the front. That's what we will try to do.
More, from a press release issued by Repsol Honda:
Marquez second as pace heats up in Indonesia
A full day of testing at the Mandalika circuit for the Repsol Honda Team produced interesting data and learnings for Marc Marquez, second, and Pol Espargaro, eighth.
After Friday's interrupted running due to wet weather conditions, the MotoGP paddock's weather worries were eased as the rain stayed away from the Lombok circuit, despite dark clouds building just behind the back of the circuit. Another day of running continued to improve the track condition as riders began to dip into the 1'31s throughout the day.
Saturday was another day of steady improvements and progress for Marc Marquez on his way to second place on the time sheets. Across the course of 74 laps, the #93 set a best time of 1'31.481 – an improvement of 2.3 seconds over his previous day's best. Like the rest of the field, his lap came in the closing stages of the day. But Marquez's finishing position was not important to him, instead enjoying an ever-improving feeling with the bike and in turn an improved ability to produce quick laps.
Pol Espargaro was again busy as he set about his testing plan, completing 76 laps on the second day and setting a best time of 1'31.605. This time came in the closing half an hour of the day as the MotoGP grid switched into time attack mode for the first time this test. Ending the day eighth overall, Espargaro was pleased with his work on the penultimate day of testing – especially with his speed over longer runs.
Sunday in Indonesia marks the end of pre-season testing for the 2022 MotoGP World Championship, tomorrow the last day for the Repsol Honda Team to prepare ahead of the 2022 Qatar GP. Practice for the first race of the year will begin on Friday, March 04.
Marc Marquez
2ND  1'31.481
"I already said yesterday that I started to feel the bike and today we did another step. We finished second, but the position and the time attack doesn't matter, what was important was our rhythm and how the lap time was coming. Even in the last run of the day we tried something different and it was another improvement. Happy, trying things and finding the way with this new bike. So far this test has allowed us to shape the bike to me, to my style and tomorrow will be another important day."
Pol Espargaro
8TH  1'31.605
"We had another really good day today, overall we made more progress and in a good direction. The bike is reacting better everyday and it feels like we are getting even closer to being ready for Qatar. Of course there's still work left to do but we are in a good spot. We've found that feeling we were missing last year and especially our race pace today was good, maybe even the best. When it came time to do a really fast lap, there's some improvements to be made with the front brakes but our ideal sectors were strong and a fast lap was not our focus. Thanks to my team for their work, one more day."
More, from a press release issued by Team Suzuki ECSTAR:
CHALLENGING BUT USEFUL DAY TWO IN MANDALIKA FOR SUZUKI
Joan Mir: 5th – 1'31.586 (+ 0.297)
Alex Rins: 13th – 1'31.884 (+ 0.595)
The second day on track at the Pertamina Mandalika circuit proved to be tricky as the riders continued their learning curve in Indonesia. For Joan Mir the day was made harder as some team members on his side of the garage received positive lateral flow (rapid antigen) tests and were therefore out of action and isolated pending results of PCR tests. However, both Mir and Alex Rins managed to find their feet with the track and gain useful information ahead of the season start.
With the track in better condition than the previous day, the riders were able to move onto testing some items that were left over from last week's Sepang test.
Mir lost session time after a small crash. He was hoping to do a long run but felt he wanted to make a few adjustments on the electronics side first. Overall, he was happy and felt things were improving. Mir completed 47 laps and was close to the top time.
Meanwhile, Rins improved his pace with his GSX-RR and felt that he and the team had taken a further step forward. He lost the chance for a flying lap due to a change in conditions but aims to try again on the final day of testing. He totalled 73 laps.
Joan Mir:
"Today was a busy one, some crew members on my side of the team have had to isolate awaiting PCR results, and this made things more difficult not only for me but for them. I also had a crash, which made the job even harder for the remaining team members. These things can happen and we have to adapt. I was struggling a little with the electronics today, so I didn't really have an opportunity to string lots of laps together. But overall, I'm feeling happy and things are moving in the right direction. We'll continue to work tomorrow."
Alex Rins:
"Overall, today was a good day and we made a step forward both with the track and with the bike; it allowed us to be faster and improve our pace around this place. I'm still missing one fast lap; I went for a time attack and then I saw some rain on the screen so I abandoned it – during the test is not the time to take risks. The track was grippier today and we were able to move onto the things that we didn't manage to test in Sepang, and that was useful."
Ken Kawauchi – Technical Manager:
"We've finished the second day of testing, and both riders were able to test some items left over from Sepang. This was important because we needed to do some comparisons and decide on a few things before the first race. I feel more relaxed today because we feel that we're ready to start the season, but tomorrow we will use the final day for fine-tuning and final preparations."
More, from a press release issued by LCR Honda Castrol:
ÁLEX MÁRQUEZ ENCOURAGED AFTER DAY TWO AT MANDALIKA
Álex Márquez enjoyed another productive day as he continued preparations for the 2022 MotoGP World Championship at the Mandalika pre-season test. The LCR Honda CASTROL rider took advantage of more favourable conditions on day two in Lombok to get through a busy schedule as he fine-tuned his RC213v machinery ahead of next month's curtain-raiser in Qatar.
The Spaniard again focused on race pace and set-up for the majority of the session and made encouraging strides as he clocked up a total of 77 laps. Like the majority of the field he attempted a time attack in the final hour and, despite ending in 16th position, was still just seven tenths off top spot.
Álex Márquez – 16th
(1'31.980)
"I'm really happy with our work on the second day and the position in the final standings didn't reflect our work today or our potential. We did a really good job overall, we were one of the only riders going in the really hot conditions, so I'm quite satisfied. We made some improvements, improved the pace, but maybe put the soft tyre on a little too early compared to the others. Anyway, tomorrow we'll have an opportunity to be closer to the top positions and I think we have the potential to do it. The race pace is good, the feeling is good and tomorrow we'll prepare the final details for Qatar."
More, from a press release issued by LCR Honda Idemitsu:
TAKA SATISFIED AFTER BUSY DAY TWO AT MANDALIKA
Takaaki Nakagami was pleased with the progress he was able to make on day two of the final pre-season MotoGP test at Mandalika. The LCR Honda IDEMITSU rider made significant strides forward at the Indonesian venue as he continued to refine the 2022 Honda prototype ahead of the new World Championship campaign.
The Japanese star worked hard throughout the day to improve his base set-up and got through 65 laps as he tested various settings. Although he lowered his time from Friday by nearly a second and a half, Taka will aim to improve his final position in the standings tomorrow after struggling to nail a flying lap during his time attack in the final hour.
Takaaki Nakagami – 15th
(1'31.980)
"In the morning we tried to do as many laps as possible and the feeling of the bike is getting better and better. Everyone improved, but we also made a big step from yesterday so I'm happy how we're progressing. For our fast lap times I did not have the best feeling, I made a couple of mistakes, so that's on me. Anyway, we still have another day tomorrow, hopefully we can put something together to finish this test in the best way and be ready for Qatar. I'm pleased with how the team is working. We'll try to make another step forward tomorrow."
OTHER USERS BOUGHT THIS!!!