"Twenty years ago I couldn't do the first two races, because I was not of age. When I arrived here at Jerez, still missing the Friday practice, I went to see who would be my rivals: Poggiali, Pedrosa… they were my heroes. In Sacchi's hospitality they made me find a cake, then they accompanied me under the motorhome of Max Biaggi, who was my idol. In the race I finished 15th behind Marco Simoncelli and 25 seconds from the first, Cecchinello ".
Thus begins the story of Jorge Lorenzo on the day of his introduction as a 'GP Legend', at Jerez, last Saturday and, of course, Porfuera did not miss an opportunity to pronounce one of those striking phrases that have made him a particular character in MotoGP. There are those who loved him for his spontaneity and those who could not stand him, considering him self-important.
"I achieved things that I did not imagine in my career – he said – except for Rossi few succeeded, and I am happy: many are champions, but not all champions are legends", which is the equivalent of 'there are those who can and those who can't: I can'.
Let's give Jorge, or Giorgio or whatever you want to call the Majorcan the benefit of the doubt: we are in the presence, however, of a spectacular champion who always says what he thinks, even if he often doesn't think enough about what he says. But that's the beauty of him. Jorge is 'genuine'.
How many interviews have we read in the middle of which there was one of his bombastic sentences, or something that was simply off-the-wall? We expect this from riders, even if, and we personally say, unfortunately, they are not all like that.
Ego is fundamental for a rider: Barry Sheene and Kenny Roberts both had it, but they expressed it in different ways. The former with incredible humour and warmth, the latter with hasty and grumpy ways, if he wasn't in the mood. But they were both stellar characters, great champions and, above all, good guys. Like Giorgio.
When did these giants understand that they were particular, unique, unrepeatable? Lorenzo can tell you the day: 20 September 2003.
Lorenzo: "In Brazil, after my first victory, I realized I could live with bikes"
"In Brazil, on the occasion of my first victory, at the Jacarepagua circuit, I understood that I could do the sport I loved, my job. That I could have lived there ".
That day Giorgio beat Casey Stoner. It was a three-way sprint, the third was Alex De Angelis, the fourth Pedrosa. Definitely all thoroughbred riders. The kid looked promising.
"The person to whom I owe the most is my mother, but professionally I owe everything to my father, with whom I then had a personal relationship problem. Concentration has always been my strong point. Starting, hitting hard, the hammer, and then continuing to ride smoothly, like butter. Hammer and butter. Life is a compromise and motorcycles are a dangerous sport. Racing in any other way would have been impossible for me, but I made life impossible for many close to me, during my career, precisely because of my total concentration. My first team manager was Zeelenberg: I ​​started winning with him. Now that I have retired, with no pressure and being able to do what I want with my time, I am happy. I don't push people to the limit. For those who have not won enough it is difficult to retire, for world champions like me it is easier to enjoy life ".
Jorge, like Max, says inconvenient things at times, but he doesn't notice it
Jorge Lorenzo at his best. It's always there, in the last sentence he says, something that surprises you. In this sense, he is very reminiscent of the one who later became his best friend, Max Biaggi. He says real things, sometimes inconvenient, but he doesn't even notice it. If you like him, regardless of whether he is your friend or not, you filter him: you know that there is no meanness in his way of being. Like when at the back of his helmet, after a declaration from Claudio Domenicali, the writing appeared, "I'm not a great rider, I'm a champion".
There is self-doubt in these words, but also a lot of determination.
"Valentino was a beast, great on the brakes: with him winning on the last lap was impossible – he remembers, and then adds with perspicacity – if you weren't strong in the head with him it was a problem, but I had no problems with my helmet on once on the track ".
It's reasoning that makes us understand what was lacking instead in the rider who Jorge considers the best ever, Casey Stoner. But in Lorenzo's ABC book of the word 'champion' there is another name.
Lorenzo: "Marquez is very strong, an animal, his ambition is boundless"
"Marquez is technically very strong and is a special animal in riding a bike. He always wants to win. His ambition is boundless ".
Indications he ended with a personal seal of approval: "two champions it was a pleasure to have them as opponents and beat them".
Casey and Marc, two imperfect riders compared to Jorge, who did what they did with that pinch of recklessness, talent and the provision that Lorenzo did not always show, but that he also possessed.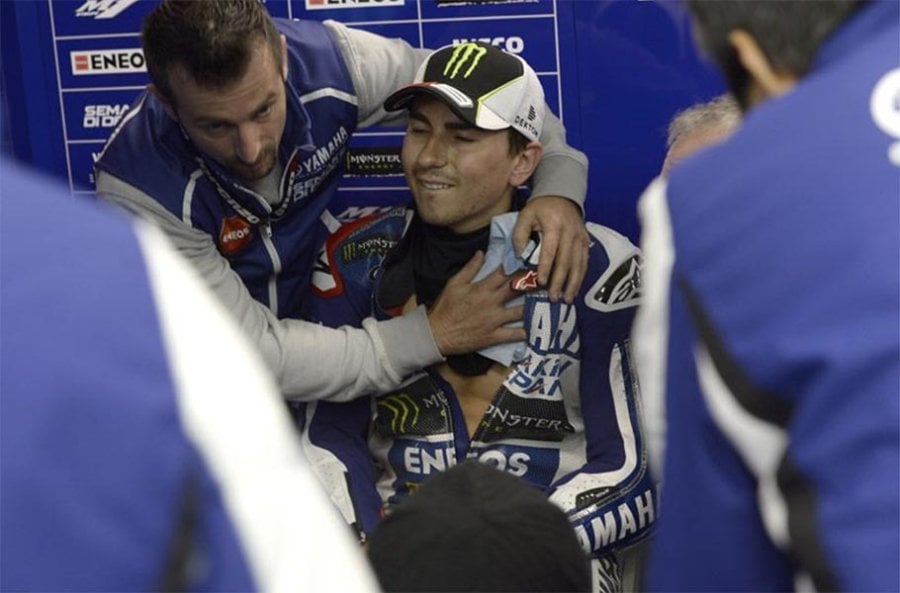 "That time at Assen, in 2013, when I broke my collarbone in practice. I didn't want to lose points from Pedrosa, I flew to have surgery and since I felt good after the operation, I went back to the Netherlands and finished 5th. I was crazy, then at the Sachsenring, immediately after, I crashed and bent the plate that I had in the collarbone ".
An exemplary career that of the Majorcan: five world titles, 2 in 250 and 3 in MotoGP, 152 podiums, 68 wins, 47 in the premier class, 69 poles, 51 second places, 33 thirds. Big numbers.
"I could have done better, because perfection does not exist, but also much worse", he now underlines that, as a hobby, he races in the Porsche Cup. For the moment his performances are not stratospheric, but even so he will improve because he is Jorge Lorenzo and now he is a tourist his head is always the same. He doesn't think about marriage, about children, but it is already clear to him that he doesn't want to see them race.
"I would prevent them from becoming riders, I risked my life, I had injuries, motorcycling is a wonderful sport and riding the bike gives immense pleasure, but I would not sponsor their career". He admits.
A still young man perfectly integrated into his new reality as a wealthy and successful ex, without remorse or other desires? We are not entirely sure.
"If I had won with Ducati before that Mugello, then repeating it in Barcelona and the Red Bull Ring, maybe I would still be on the track".
OTHER USERS BOUGHT THIS!!!