When I found this crazy bike built by a gent named Allen Millyard, I had yet to be introduced to who he was or what he stood for. As far as I was concerned, he had introduced his beloved beauty to the masses – a custom masterpiece with a 700-lb Dodge engine under the keester going by the name of 'Millyard Viper V10' – and judging by how much his machine recalled the infamous 2003 8.3L V10 Dodge Tomahawk muscle-cycle that we covered in our list of Supercar-inspired motorcycles, I wasn't so sure the bike would do well going into the corners (let alone a straight line). 
It will intrigue you all to know, then, that we've actually covered this man's feats on the Musclecycle (twice), and that Millyard is lauded for his skills, with MotorcycleBroker describing Allen as, "an incredible engineer who creates motorcycling masterpieces…[creating] machines in his tiny garage with a hack saw, welding equipment, many files, a lathe, a milling machine, and a pillar drill."
What gets my grilled cheese is that this dude literally asked himself, 'why not put America's most powerful naturally aspirated engine in a cage with two wheels?'
Why not indeed.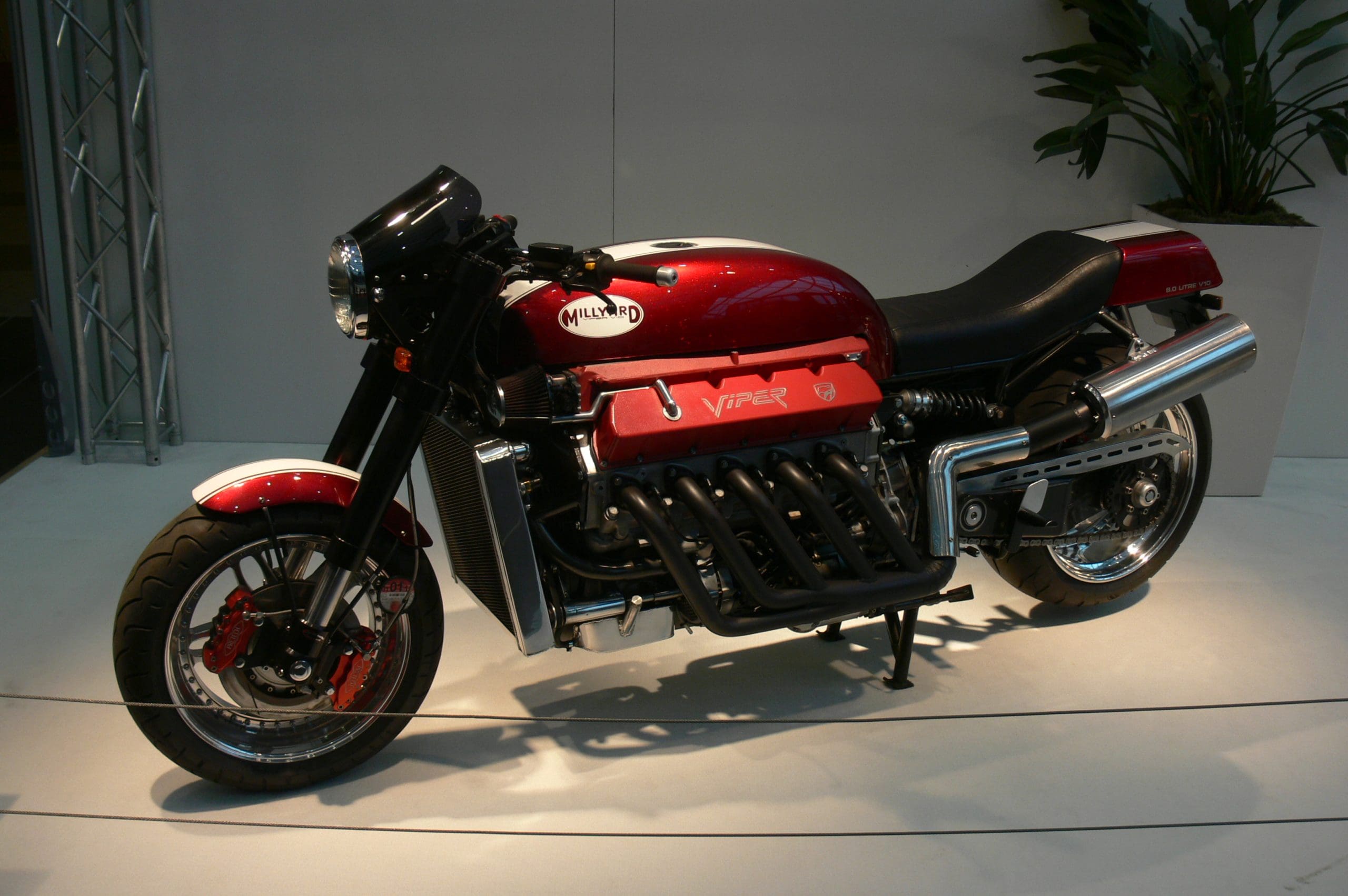 The report from Hot Cars tells us that Millyard actually uses this bike properly and that it works very well, considering its bulk (something that can't quite be said for the Tomahawk).
We're also told 9000 miles have already been clocked under the Millyard Viper V10's belt, with a great deal of leg-stretching via trips to (and around) the United Kingdom's motorcycle hotspots such as the Isle of Man and Guernsey.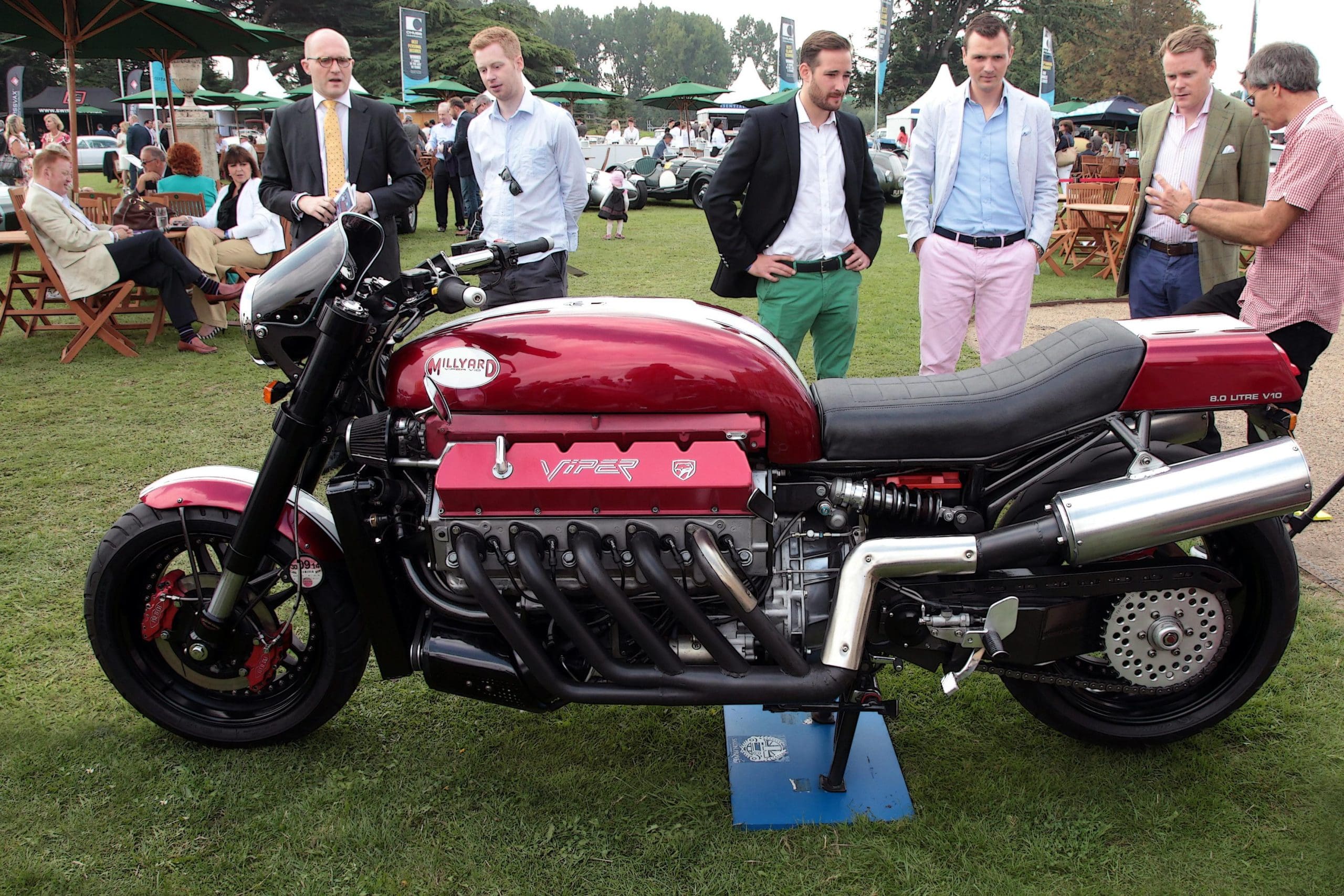 If you're wondering this baby's top speed, she's no slowpoke; although the speedometer was purportedly off by a few clicks and only read 157mph on the day of testing back in 2009, the team measured in the more traditional fashion and clocked 207 mph, recording for all posterity that the Millyard Viper V10 had just beaten its automotive counterpart in its own backyard. 
Terrifying.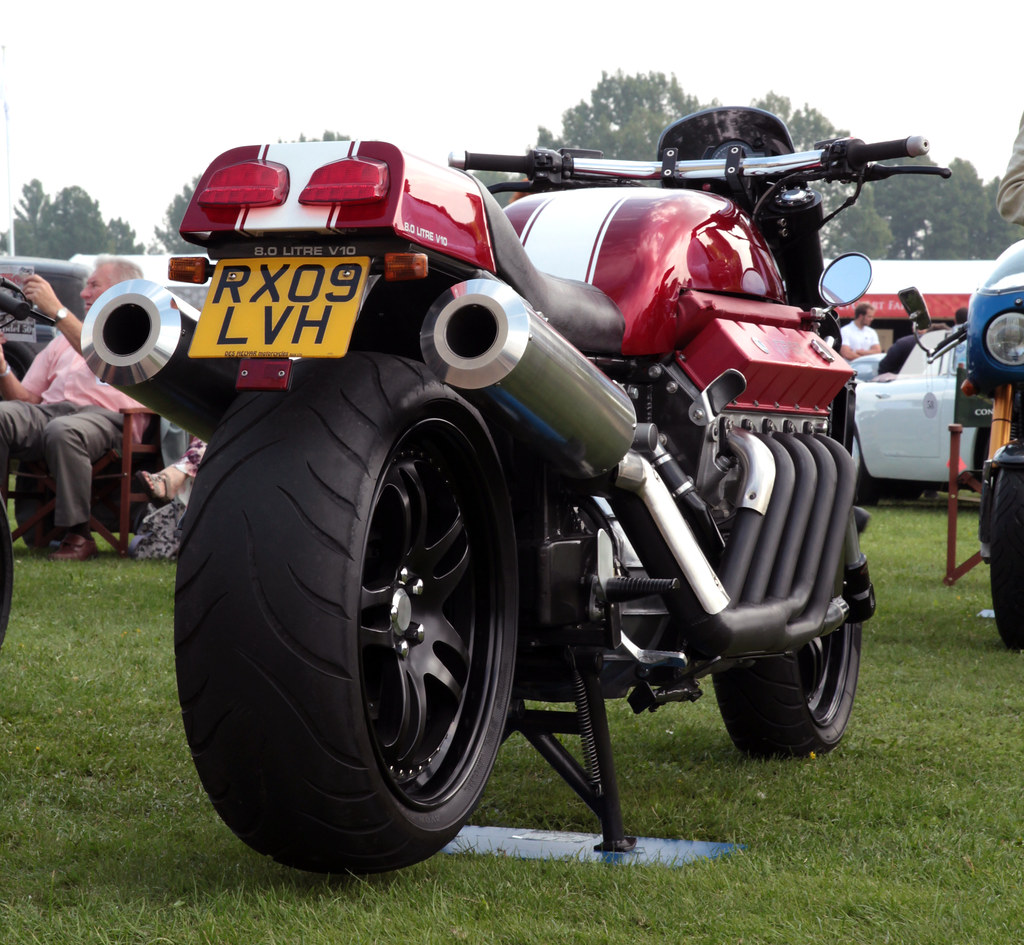 With Millyard's works currently featured in the magazine Classic Motorcycle Mechanics as well as on The Motorbike Show with Henry Cole, it's obvious there's under the proverbial hood than meets the eye – so let's dig into this particular build and see what we find (hint – many, many ponies).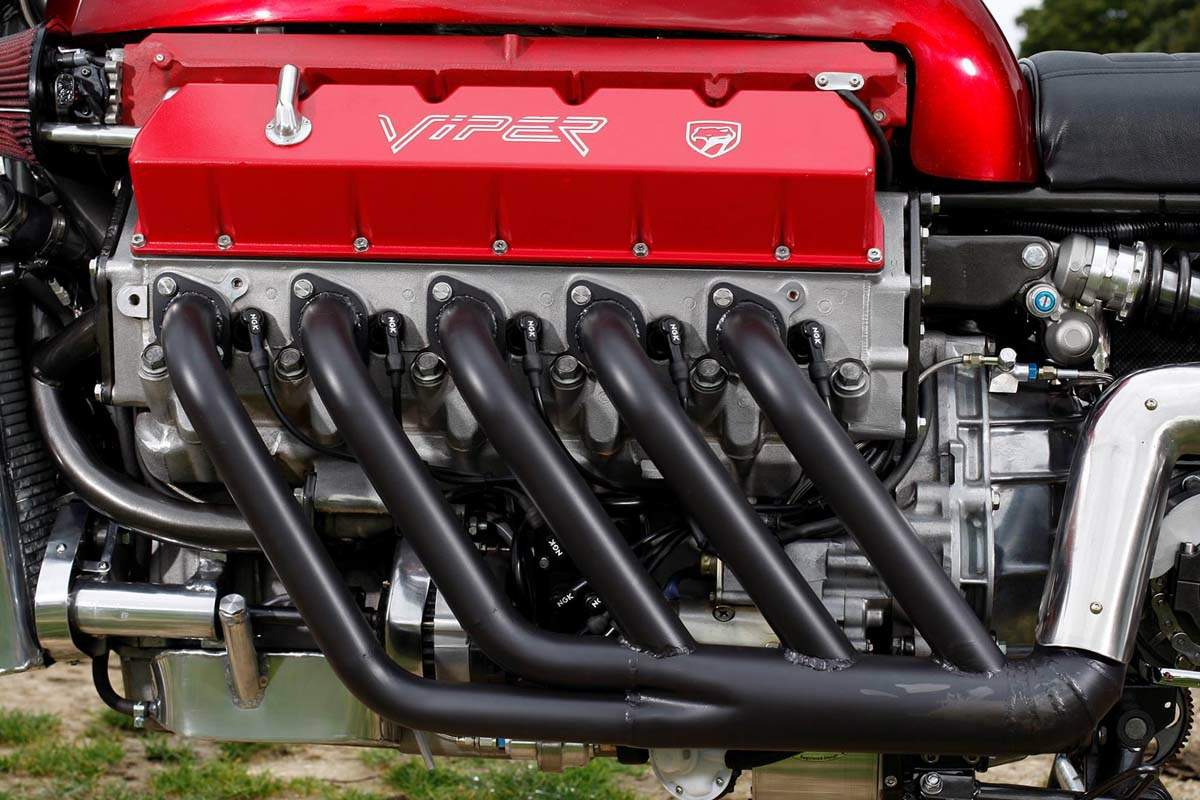 Of course, we will start with the gigantic heart this tin man lugs around. Fitted with a Dodge Viper GTS's 8.0-liter V10 engine, the bike's long body accommodates the adjustment, with MuscleCarsandTrucks imparting that the creation of this bike was done entirely by hand. That also includes the suspension – fabricated from two Yamaha coil-overs with car springs – as well as the custom swingarm, single-speed gearbox, brake system, and hand-foot-operated clutch.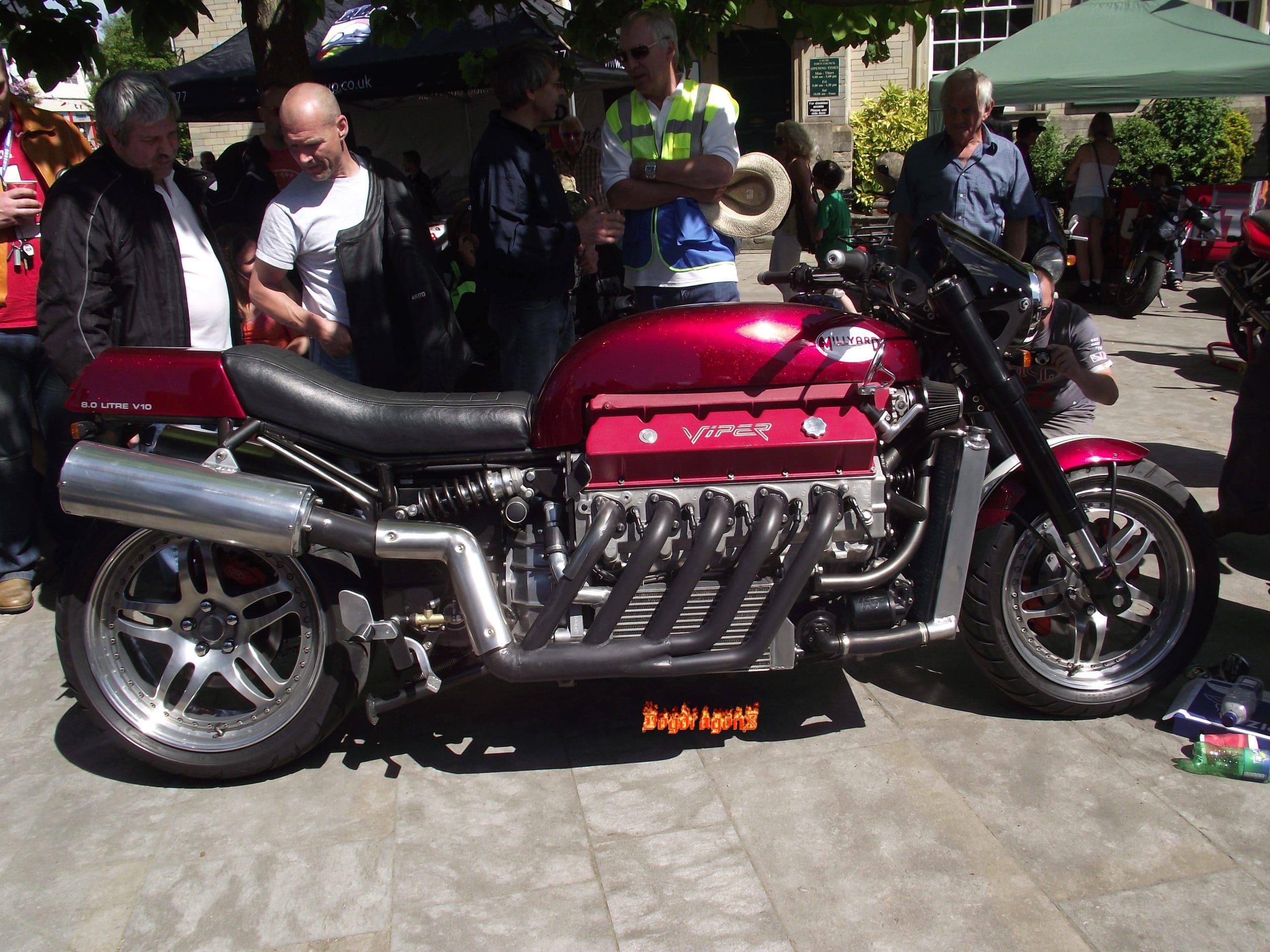 With that glorious thumper acting as the main component for the body, the whole kit and caboodle wipes the competition floor at nearly 1,400lbs – not a light feat, and we dare say that engine will not be the first thing to go, should the juice box be opened to full capacity.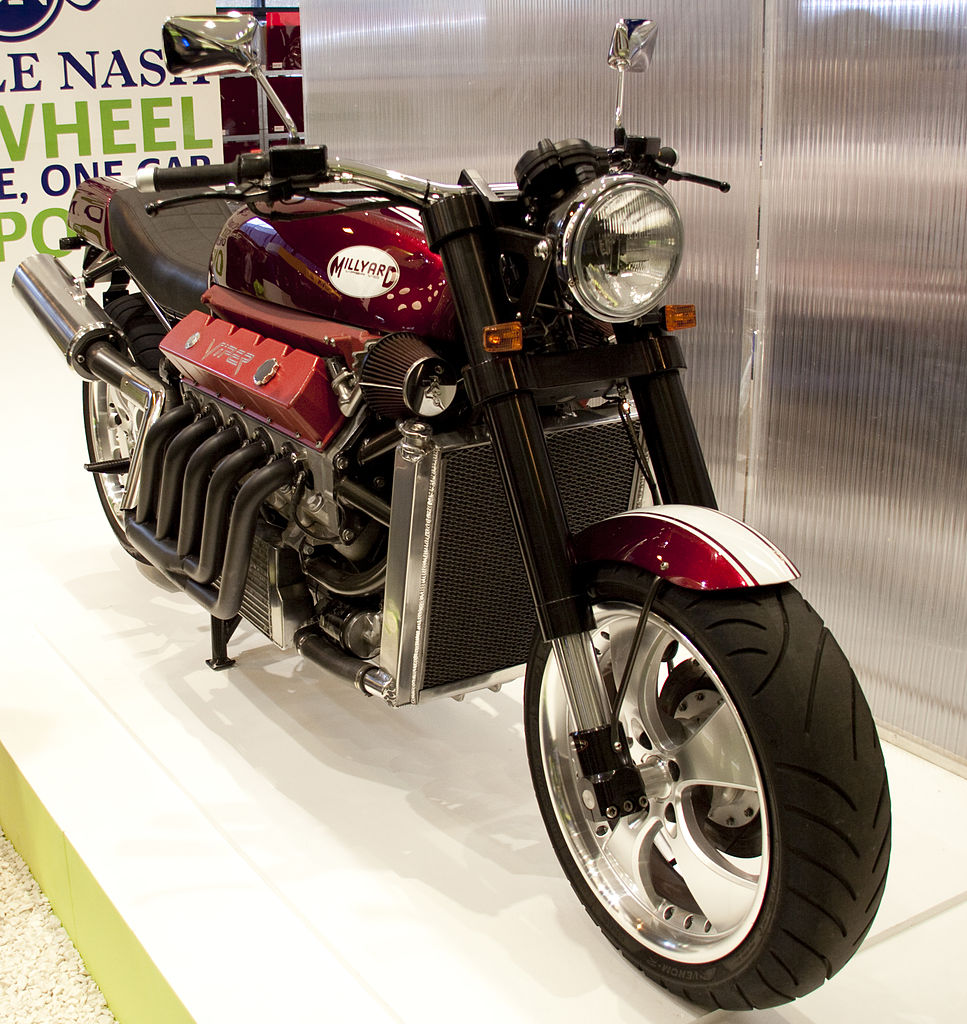 For more stories like this, be sure to subscribe to our newsletter where our main man Cameron Martel curates the best of the week's topics and hand-delivers them to your inbox. 
Drop a comment letting us know what you think, and as always – stay safe on the twisties.
OTHER USERS BOUGHT THIS!!!