Albeit with up-and-down results, the first six classified riders in the world championship – Enea Bastianini, Alex Rins, Aleix Espargarò, Joan Mir, Fabio Quartararo and Brad Binder – have something in common: they all finished in the points in the first four races of the world championship that concluded the overseas leg of.
Only three of them have been on the top step of the podium: twice Bastianini and once each the eldest of the Espargarò brothers, in Argentina and Miguel Oliveira, in Indonesia. Miguel, however, did not score points either in Qatar or in America.
Oh well, tell us something we don't know: to win the world championship you need A) to win Grands Prix, B) to finish as many races as possible.
So, let's move on to the second deduction: which rider, out of the six, at this moment does not seem able to fight for the world championship? Bad question, because there is a lot of resilience in amongst those names. So let's take a look at the chasing riders, to try to figure out who could rapidly move up the table, given that there are still 17 Grands Prix still left to race.
One name stands out: Marc Marquez. 'Magic', in fact, with only two races to his name is only two points behind Pecco Bagnaia, who has done them all. And if we think that he started from the back of the grid in Austin due to an electronics problem, it doesn't take much to say that if he had started well he would have had more points than the Italian.
What does this mean? Simply that for him recovering the 40 points from the leader, Enea, is not an impossible undertaking. But now let's try to reason without thinking about the score, but only about the fact that there are seventeen races still to play for. Who do we think will be able to fight for the 2022 title?
Marquez, for sure, irrespective of other unforeseen events of course. And then Fabio Quartararo, the only one capable of pushing the Yamaha up at the top. Then there is the Suzuki duo, with Rins returning to reliability, something that his teammate, Mir, has never lacked.
Both Jack Miller and Pecco Bagnaia, on the other hand, have not convinced us so far. Jack has speed, and he doesn't complain. We believe, without fear of denial, that his goal is to stay with a Ducati under his seat, even if outside the factory team. Even if he would like it, his goal is not to win the world championship title.
Pecco, on the other hand, continues to be dissatisfied with the GP22, but it is true, however, that at the moment he is the third last Ducati on the track. Behind him there are only those of Marini and Bezzecchi. A few questions need to be asked…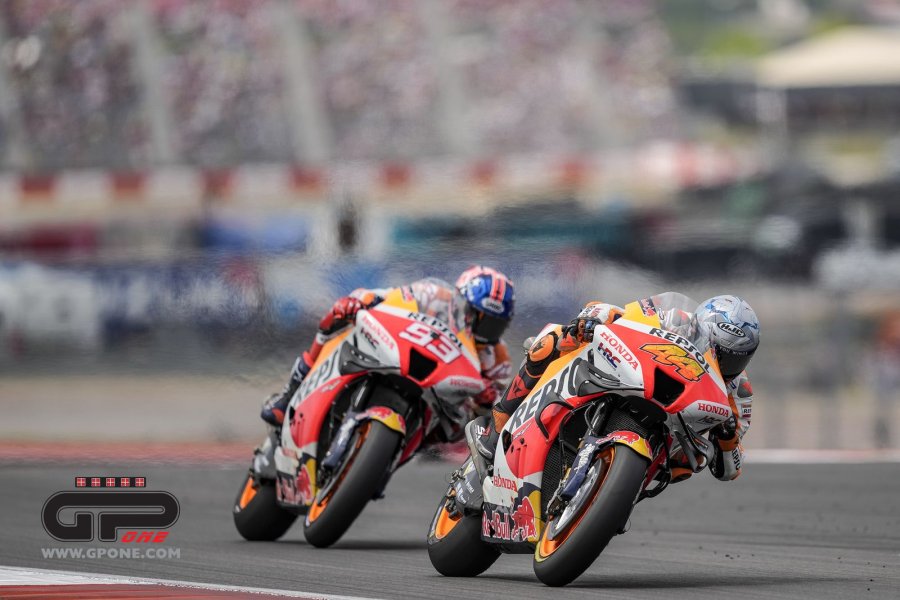 The question: is the Honda RC213-V '22 better or worse than the Ducati GP22?
And once again we have to take Marc Marquez and his comeback as an example, with a bike in his hands that – he said – does not satisfy him at all. Is the latest version of the RC213-V better or worse than the 2022 Ducati?
While taking account of those who ride it, we think there is no contest: the Ducati is faster, so some of its riders have to roll up their sleeves. Pecco in Austin set the 6th fastest time in the race, which is not bad, but he was still 2 tenths of a second down on his team mate, Jack Miller and was just under 4 seconds away at the finish.
In this regard, it should be noted that at the end of the first lap Pecco was fourth, 0.668 from the leader, while Marc was eighteenth 4.387s down. The gap of the Spaniard, due to traffic, was up to almost 6 seconds on lap 8. From then on, Marquez began to recover until he reached and then overtook Quartararo, taking sixth position at the finish.
And this in Texas was certainly not Marquez's best recovery. We remember in fact the one at Valencia in 2012, in Moto2 when from 33rd on the grid he moved up 32 positions and went on to win. But there are others. And what about the amazing 2020 when at Jerez on lap 5 after an off-track excursion he rejoined the track in 16th to climb up to third position behind Vinales, before crashing again and thus starting his ordeal.
There is little doubt, however, about his speed. And Quartararo, the reigning world champion, is right when he points out the obvious: "there is always something to learn from Marquez".
After all, Fabio, with a bike that has undeniable top speed limits, makes the difference compared to his brand mates. And this is the only thing that matters to him. Be the best rider with your own bike.
Marquez once again this year, for one reason or another, has 'gifted' two Grands Prix to his rivals. But it is undeniable that he too is still in the running for the world championship. Whether you like it or not, today he is the benchmark on which everything has to be based.
OTHER USERS BOUGHT THIS!!!